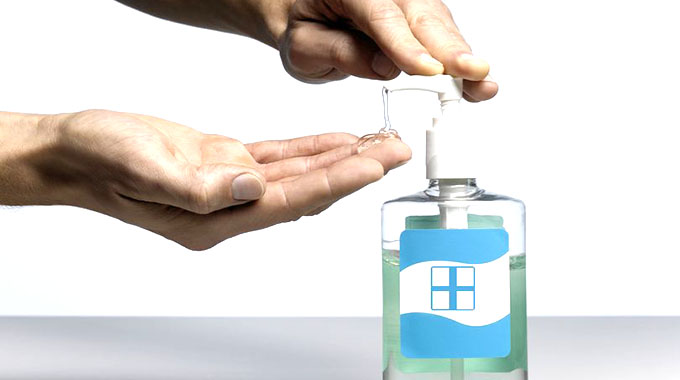 The ManicaPost
Cletus Mushanawani News Editor
Africa University is offering online education to ensure minimum disruption of learning activities as the world battles against the spread of Covid-19, while the institution's Public Health and Nursing Department is preparing for the production of hand sanitisers.
Following a Government directive to effect a 21-day lockdown starting on Monday, the institution sealed off its campus at Old Mutare Mission, about 15km from Mutare's CBD.
While local students are at their respective homes, about 250 foreign students are at the university's halls of residence as their countries of origin have closed their borders as the fight against Covid-19 intensifies.
In an interview at Africa University on Wednesday, Dean of Students Mr George Miti, who is also chairing the university's Covid-19 rapid response team, told The Manica Post that online lectures are progressing well through various platforms, including video-conferencing and WhatsApp.
"Africa University was the first university in the country to be accredited to offer online programmes and this has become handy in these trying moments.
"Although we closed on March 24, we have ensured that our students are kept busy through online services. This will ensure that learning is not disrupted as some of the students are in their final semesters and are about to write their examinations," he said.
Mr Miti said the university is cognisant of the fact that not every student has access to internet facilities, and therefore the institution encouraged such students to download most of the learning materials before leaving the campus for their respective homes.
"We are also aware that data is expensive and some areas are facing electricity blackouts. We ensured that
the students adequately used the Wi-Fi facilities here to get as much learning materials as they could before leaving.
"Almost everyone is now on the WhatsApp platform and some of the learning materials are being accessed through that platform.
"We are also encouraging lecturers not to overload the online platforms with bulk materials to ensure that our students are not affected by the high costs of downloading these materials," he said.
Students Representative Council vice-president and a Democratic Republic of Congo national, Mr Fiston Oqtot, hailed Africa University's administration for the arrangements to ensure minimum disruption of learning activities.
"Some of us could not travel back home because of the spread of the Covid-19. We hail the administration here for ensuring that we continue with our programmes online.
"All foreign students are residing at this campus and we are staying safe in our respective halls of residence and observing social distancing.
"l am in my final semester so this online arrangement is really coming in handy. We are just praying that the virus will be contained soon so that our examinations will not be deferred," said Mr Oqtot.
"We have ample time to do our research, submit assignments and get feedback from the lecturers online," he said.
Mr Oqtot's sentiments were also echoed by a Peace and Governance doctorate student from Rwanda, Ms Jeanette Mukamana, who said the e-learning programme is helping them cope with the lockdown as it keeps them busy.
"To some of us, it is business as usual as we are continuing with our studies. AU is doing a great job. I have been here in Zimbabwe since 2011 and I will leave this country fully equipped to help in developing my country," said Ms Mukamana.
Speaking on the hand sanitizer project, senior lecturer in the Medical Laboratory Sciences Department, as well as the head of Public Health, Dr Eltony Mugomeri said AU has taken a leading role in ensuring the availability of cheaper remedies in the fight against COVID-19.
The institution has already tested the efficacy of the product to ensure the best quality gets to the people.
The hand sanitizers, which will be on the market in the near future, will be sold at highly subsidised prices.
The project is being spearheaded by Dr Mugomeri.
Hand sanitizers are a basic requirement in the COVID- 19 pandemic as they promote good hand hygiene in the absence of water.
The precious liquid is currently in short supply in most urban settlements.
Speaking on what is involved in producing hand sanitizers, Dr Mugomeri said, "We combine ethanol, which must be at least 70 percent in alcohol concentration, with glycerine for moisturization.
"We expect the initial phase of production to be done in the next two weeks – one week to procure the required materials and the second one for production."
While there are eight confirmed cases of COVID-19 in Zimbabwe, including one death, Manicaland is yet to record a single case.
Efforts are being made across the country's various sectors to raise awareness on how the virus can be stopped from spreading.
As part of its disaster preparedness strategy, Africa University's rapid response team is operating in full force.
The standing committee was active during the Ebola outbreak in the DRC in 2017, the 2018 cholera outbreak in Zimbabwe and when Cyclone Idai hit parts of Manicaland in 2019.
Mr Miti said they are regularly carrying out sensitisation programmes through public notices and online platforms to keep the university community informed about the pandemic.
Africa University Vice-Chancellor, Professor Munashe Furusa has also been leading from the front as he recently addressed the community emphasising on the need to observe social distancing, among other World Health Organisation recommended measures to combat the spread of the virus.
Strategic places around the university have since been equipped with alcohol-based hand sanitizers and mobile hand washing units.
State universities that include the University of Zimbabwe, Bindura University of Science Education, Chinhoyi University of Technology, Midlands State University and the National University of Science and Technology have been tasked to produce sanitizers and personal protective equipment.
The country's higher and tertiary education sector was recently re-oriented towards innovation and industrialisation.
Ends