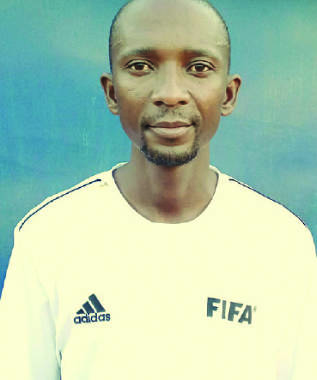 The ManicaPost
Ray Bande
Senior Reporter
HAVING been forced to quit pursuing his passion of playing football where he used to rub shoulders with the likes of Willard Katsande , Cleopas and Cephas Charera among other youngsters back then at Dangare Primary School in Sakubva, Brian Mkundu chose to remain part of the big football family through coaching.
Mukundu's tale is one of the many testimonies of football loving individuals who failed to pursue a playing career, but still managed to remain attached to the game in different capacities that include officiating, coaching or administration.
Rusape-born FIFA Panel referee, Brighton Chimene is one good example.
However, it is Mukundu's determination in the field of coaching that remained unwavering, and today the soft-spoken coach prides himself in being one of the FIFA Coach Educators Course or Train the Trainer Course participants.
The course was held in Harare at Prince Edward High School from November 1 to 5.
The Coach Educators Course was the first course to be held since 2016 when all CAF courses were temporarily stopped on the continent to align the syllabus with UEFA.
Mukundu is one of the few who trace their roots to Manicaland with CAF B badge holders, and now awaits the next FIFA course to attain the CAF A licence.
Known fellow Manicaland coaches in possession of CAF B licences include Tenax FC coach, Shadreck 'Father' Mugurasave, Kenneth 'Bokande' Kachara and Chasten Ngondonga.
Manicaland has not produced many prominent coaches as much as players over the years, given that only Ngezi Platinum coach, Rodwell Dhlakama and ex-CAPS United assistant coach, Joseph Takaringofa are the CAF A coaching badge holders who truly trace their roots to the province.
Mukundu said: "It all started at Dangare Primary School where I played for the school team alongside Willard Katsande ,Cleopas and Cephas Charera. I also played for the then Feruka Juniors while still in high school, but I did not continue because of Asthma challenges.
"After that, my passion drove me to pursue football coaching as a career. All I wanted was to contribute to the development of football."
Indeed, the passion has seen him achieve more in the world of coaching as he now stands on the brink of attaining the highest coaching qualification – the CAF A. Mukundu was one of the 21 participants at last week's Equip Coach Educators /Instructors Course that was meant to equip him with skills to train other coaches to attain their badges.
Tutors who conducted the training included FIFA coach educator instructor, Franc Mohashoe from South Africa.
In his career, Mukundu has so far been attached to Nyanga Resources in Division Two, Big Valley Masters in Division One, Twalumba FC again in Division One, and Shooting Stars in the Premier Soccer League
On his thoughts on the standards of football coaching in Manicaland, Mukundu said: "Manicaland has produced a lot of talented players which is clear that the province is blessed with a lot of talent, but I feel there is a lot which needs to be done to improve coach education in the province so as to align ourselves with the ever changing football dynamics.
"Personally, I have learnt lot to lessons along the way, and I feel there is need to share that knowledge to develop the game in the province."
Mukundu is anxiously looking forward to the next coming CAF A Licence class to be hosted in Zimbabwe.