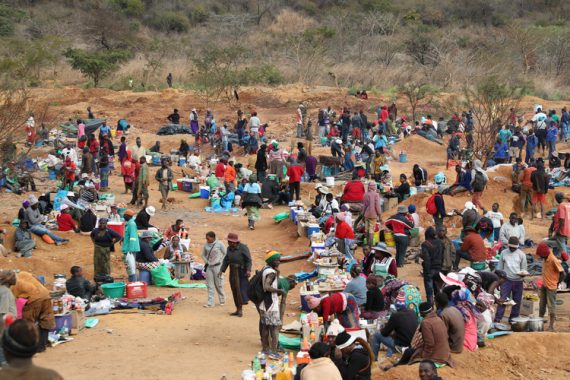 The ManicaPost
Sharon Chigeza Post Correspondent
POLICE in Penhalonga were last week engaged in running battles with over 800 artisanal gold miners who had invaded the DTZ-OZgeo gold claims along Mutare River and left a trail of environmental damage as they indiscriminately dig and leave huge open pits in the hunt for the lucrative yellow metal.
The artisanal miners drawn from across Manicaland comprise young men and women in their twenties and thirties — who plunder the mineral in broad daylight.
Some spend nights in the mountains and bush while those who return to their homes are brought by kombis and pirating taxis the following morning to the rich mining claim.
Vendors have also permanently camped in the area selling an assortment of wares, but mostly beer, cigarettes, food and clothes at more than double the price to unperturbed artisanal miners, who are always loaded with huge wards of the scarce bond notes.
The illegal mining activities have brought a myriad of environmental problems which prompted the Environmental Management Agency (EMA) to issue an order stopping all  of them.
EMA Manicaland provincial manager Mr Kingston Chitotombe said efforts to engage the miners were met with hostility resulting in their request for police intervention.
"We visited the area in July, but received threats from some of the illegal gold panners. Due to the intensity of the hostility we had to engage police to ensure prevalence of sanity and order and I am glad that action has been taken," said Mr Chitotombe.
EMA's order cited environmental damage and water pollution along the river.
Mr Chitotombe said the area had been turned into an environmental and health threat.
The miners also use a variety of contaminants, among them mercury, which causes water pollution on the upper Mutare and Odzi catchment areas. Deep and unclaimed pits that are strewn all over pose a mortal threat to both humans and animals trending the area.
Police gave the illegal miners an ultimatum to evacuate the gold claims by Wednesday. In the afternoon the miners had been flushed out by police. However, a tour by The Manica Post in the area last Friday found that some defiant illegal miners had returned and were working without any disturbances.
They vowed to stay put at the DTZ-OZgeo mining claims. They defiantly argued that illegal mining was an alternative means of survival for them. Leadmore Chikukwa vowed to stay put at the mine arguing that it was his only source of income.
"This is the only place where I can make ends meet; after all we are contributing to the national fiscus by selling our gold haul to Fidelity Printers. The place has been lying idle for a long time and we cannot suffer when we know that there is gold which is not being extracted," he said.
Chikukwa offered to rehabilitate the area damaged through their illegal activities.
"A proper policy framework that supports artisanal mining in Manicaland should be crafted taking into consideration the current economic situation we are in right now. We are willing to formalise and work well with the Government if they offer to set base here in Penhalonga where we can deliver straight to Fidelity printers since artisanal miners have been the largest contributors so far. As of the moment we have no other option," said another artisanal miner who refused to be named.