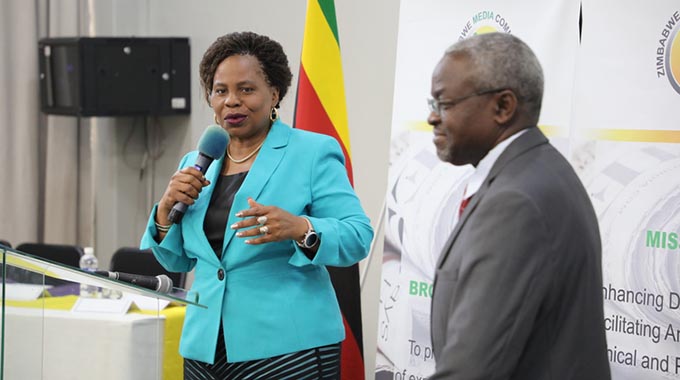 The ManicaPost
Nyasha Mapasa Post Correspondent
MINISTER of Information Publicity and Broadcasting Services Minister Monica Mutsvangwa said Government and the private sector should have their information archived digitally for easy access by researchers, journalists and film makers.
Speaking last Friday at a national consultative workshop on the Zimbabwe Media Commission Bill, the Freedom of Information Bill and the Draft National Media and Film Industry policy in Mutare, Minister Mutsvangwa said preserving information digitally was a positive step towards the 4th industrial revolution that will create business opportunities and make easy the process of searching for information.
"The biggest companies are investing in the Cloud Industry, for instance Google, Microsoft, Huawei, Alibaba and Tencent. This is the 4th Industrial Revolution with 5G telecoms already launched in various countries, including our neighbour South Africa. Clearly we have to convert from analogue base to digital. This creates huge opportunities," said Minister Mutsvangwa.
The workshop was attended by some stakeholders from the film and advertising sectors, broadcasting and printing media, civic organisations and scholars in the media fraternity and gave them a chance to voice their concerns over the proposed bills.
In an interview on the sidelines of the workshop, veteran film director and producer Ben Mahaka described Government's initiative as a vital one.
"As filmmakers, we appreciate the opportunity to share our views about policy direction. We are advocating for the establishment of an Independent Film Board and a fund that supports film because it is the best practice in the region. We believe that this will promote growth and sustainability. We are happy that our voices have been heard and we are looking forward to further consultation as the process evolves," he said.
Some stakeholders also bemoaned the fact that the proposed media bills did not address the issue of accreditation.
They complained that many people were masquerading as journalists, especially during election period, hence the need to tighten the screw and ensure that the profession is respected.
Government has committed to reform media policies, to allow free flow of information and meet the Zimbabwean's aspirations for a better and functional democracy that will deliver prosperity in line with vision 2030.
The Freedom of Information Bill seeks to repeal AIPPA and give effect to Section 62 of the Constitution, which enshrines in the Declaration of Rights the right of access to information.
The Zimbabwe Media Commission Bill makes additional provisions with regard to Zimbabwe Media Commission which is established by Section 248 of the Constitution and whose functions are detailed in Section 249 of the Constitution with the objective to protect the rights of the freedom of expression and the freedom of the media granted under Section 61 of the Constitution.