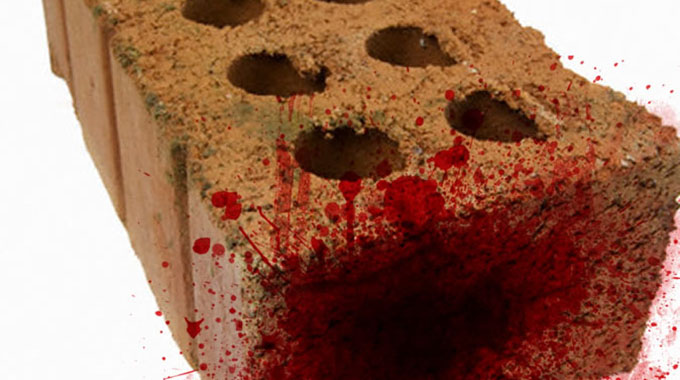 The ManicaPost
Emmah Chinyamutangira Post Correspondent
A RUSAPE woman is on the run after she allegedly murdered her husband by smashing his head with a brick following a heated argument over alleged infidelity. 
Abigail Madanhe (32) is alleged to have murdered her husband, Isaac Kapiya (50) after he raised suspicions that she was seeing another man behind his back.
Manicaland police spokesperson Inspector Tavhiringwa Kakowa confirmed the incident.
"The suspect, Abigal Madanhe (32) and the now deceased Isaac Kapiya (50) were married and staying at Moresta farm in Masedeza village, under Chief Makoni in Rusape.
"Circumstances are that on Christmas Day at around 3pm, Kapiya saw his wife talking to another man at their homestead and suspected that the two were having a love affair.
"He confronted his wife and they then picked an argument. Kapiya accused her of adultery, which ended up with him picking an iron bar and he strike her on the head with it," he said.
Insp Kakohwa said Madanhe then armed herself with bricks which she used to pelt her husband.
Madanhe's brother, Trymore Rakandwa (27), joined the fracas and started fighting in his sister's corner.
"Madanhe teamed up with her brother Trymore Rakandwa (27), from the same village, to assault her husband.
"Rakandwa attacked Kapiya with fists and also kicked him in the stomach several times.
"Madanhe allegedly picked a brick and hit her husband thrice on the head, leaving him with serious head injuries," said Insp Kakowa.
Insp Kakohwa said Madanhe upon seeing that she had seriously injured her husband, went to the police and misrepresented to that he had fallen on his own.
After informing the police, Madanhe reportedly disappeared from the village.
"Upon discovering that they had assaulted Kapiya and left him for the dead, Madanhe tried to conceal the offence by misrepresenting to the police that her husband fell in the bathroom and injured himself.
"The deceased was taken to Rusape General Hospital and died upon admission," he said.
A post mortem revealed that Kapiya had some bruises on his body and a swollen head.
Reports are that Rakandwa later spilled the beans and confessed teaming with his sister to attack Kapiya.
This led to his arrest.