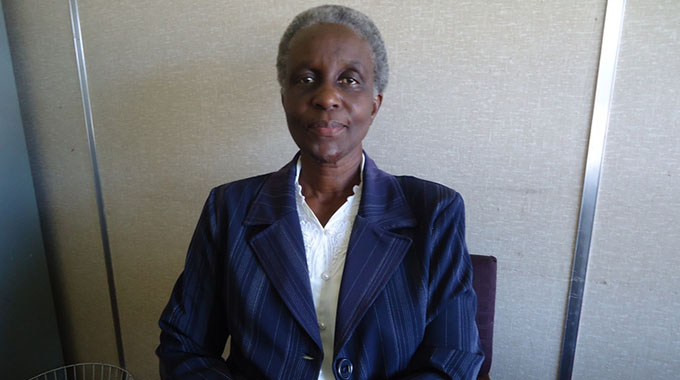 The ManicaPost
Morris Mtisi Post Correspondent
Exactly one month today, Education has lost another long serving legend to retirement. Last month, February, on the fifteenth, it was Moses Mukoyi of the St Faith's fame; today it Ms Sarah Muwusha-Education Inspector, Non-Formal.
Born on 19 March 1954 in Chimanimani district in Chaseyama village, the retiring educationist went to Mutambara Secondary School from 1969 to 1972. She joined Gwelo Tr's College, now Gweru, and trained as a secondary school teacher from 73 to 75.
Speaking to The Manica Post, the press-shy Ms Muwusha revealed how she would have preferred to quietly move out of office into quiet retirement away from the hubbub of newspapers and radio. "I don't deserve all this publicity. I want to go home quietly and rest," she said.
0"How do you feel about the retirement?" I'm scared. This is frightening…now that it is here. And then the publicity! I don't like being the centre of things. I hear about the newspaper supplementary and independent colleges throwing a farewell luncheon for me. What is all this? I am not that big. I don't deserve all this."
After several careful and diplomatically tactful efforts this reporter persuaded her to allow people to celebrate what they regarded as a legacy worth remembering and celebrating. It was then that the soft spoken, humble and down-to-earth Mai Muwusha painstakingly chronicled her journey to-date. Talking about the humility, unassuming and unpretentious nature of a graceful woman!  And a great lady!
"My first school to teach after GTC was Ellese Gledhill in Sakubva. Here I remember being mentored by Mr Buxton and Mr Chiwara." This reporter inwardly kept fingers crossed. The conversation had started to flow. At last! "That was from 1976 to 1980," she continued. "In 1981 I left Elles Gledhill for Vengere Secondary School in Rusape," a pause…then another…and yet another! Is this all she is brave enough to give to the press? God forbid! Silence. Not a sound. Then…"I remember Mr Mukoko. He was an excellent mentor to gain experience from. In May 1994 I found myself at St Dominic's here in Mutare…and the names of Mr James Chinamasa and Mr Muwodzi cannot escape my memory. They are the ones who encouraged me to apply to become a school head." At this stage of the interview the reporter rests assured we will get to the end of it successfully.
"May be you want us to go back a bit…" she continues without the reporter urging or pushing. Thank God! "I specialised in Mathematics and Environmental Studies. That was at GTC. After the encouragement by Mr Chinamasa and Muwodzi at St Dominic's I hopelessly threw in an application. And what a pleasant surprise! In May of 1994 I left for Mutema Secondary School. Headmaster for the first time! As soon as I arrived at Mutema in Chipinge, I registered to study for a Bachelor of Commerce and Accounting degree."
It was Ms Muwusha who saw Mutema Secondary School grow in leaps and bounds from 300 to 700 students between 1994 and 2007. No mean achievement! In 2005 it had grown from a petty secondary school to a high school with "A" level classes. Between 2008 and 2010 Ms Muwusha found herself at Gomorefu as school head. In 2011 she was promoted to Education Officer-Non-Formal.
Answering the question, "What do you think are some of your sweetest achievements during your service to the education of Zimbabwe?" she revealed only two.
"Lifting Mutema Secondary School from a little school with a mere 300 pupils to a high school enrolling 700 students was incredible achievement for me. Then I put up visible infrastructure development and improved the pass rate; plus improvement of the general tone of the school. Thanks to the community I must say. Their cooperation and support was unprecedented. That was one. Then two, and as Education Officer-Non-Formal, assisting 15 independent colleges to become registered entities was sweet victory."
Ms Muwusha retires at the age 53. The Manica Post wishes her a restful and peaceful retirement. It is a wonderful end of a wonderful journey but marking the beginning of yet another. The expression 'Retired does not mean tired' has become a boring cliché but the sense in the adage remains fresh and true.
Those that new Ms Muwusha very closely and interacted with her in one way or another will miss her humility in high office…in that corridor of power. While many characteristically enjoy spreading wings over everybody and nauseatingly feeling bigger than the gods in those offices, Ms Muwusha welcomed everyone with equal acceptance, unusual straight thinking and unaffected sensibleness. She naturally stood with both feet on the ground and exuded everywhere she was, enormous humility and courtly conduct. We will all miss her!
Today (Friday) between 11 am and 2pm all roads lead to The Skyview Hotel where Miss Humbleness is attending a colourful farewell luncheon organised by the heads and principals of independent colleges she superintended over in her office since 2011. Thanks to the professional team of chivalrous and hospitable schools heads led by Manicaland Independent Colleges Chairman Nangisayi Marange, also principal of Alpha Institute, and his deputy Mr Mutsongodzi of First Class Academy. You too deserve genuine applause for leading by example.