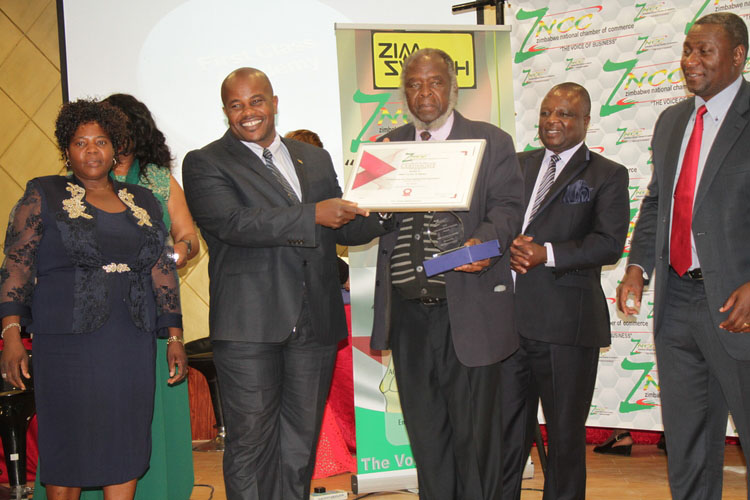 The ManicaPost
Post Correspondent
THE sky is proving to be the limit for Sakubva-based citadel of education, First Class Academy as another feather was added to its growing cap of accolades last Friday.
Besides scoring high marks in national examinations, the college is continuing making waves in business circles if the Zimbabwe National Chamber of Commerce annual provincial awards are anything to go by.
For the past three years, the college administrators aptly led by the directors, Mr Stephen and Mrs Tracy Mutsongodza have been walking with a spring in their step to the podium to receive awards. It is now a matter of time before the college invest in another trophy cabinet as the name First Class Academy and success are proving to be inseparable.
During this year's awards held at a local hotel last Friday, First Class Academy were named joint winners with Gutika Academy, Milestone Group of Schools, St Noah Group of Schools, JacknJill Foundation and Hauna Christian College in the Educational Development Award category.
Among the privately owned colleges in Mutare, First Class Academy has heavily invested in infrastructure in the sprawling high-density suburb of Sakubva. Its beautifully designed structures have seen Sakubva having a new-look.
In an interview after scooping this year's award, the college administrator, Mr Stephen Chiwara, said: "We were very pleased when the college was presented with the 2017 Educational Development Award last Friday. The award is recognition of the inclusive contributions of the college to the education sector in Manicaland and Zimbabwe at large. We felt so honoured to be recognised and being presented the award by the co-guest of honour, Minister of Minister of Information, Communication and Technology and Courier Services, Cde Supa Mandiwanzira."
In last year's A-Level examinations, First Class Academy broke its own record by having 16 students with 15 points and above. The college's Business Studies class emerged as one of the best in the country as it produced a record 80 students who passed the subject with As.
The education authorities led by Provincial Education Director, Mr Edward Shumba made a surprise visit to the college in January where they delivered a special commendation letter. Part of the letter which was signed by Mr Shumba reads: "We write to acknowledge receipt of your 2016 A-Level results and note with pleasure the tremendous improvement in the percentage pass-rate and quality of the results. We extend our special compliments to all teachers, especially those who teach commercial subjects. We urge you to continue with the hard work and maintain your position as torch-bearers.
"With the advent of the completion of the Science Laboratory, we look forward for the improvement of the results of the Science subjects.
''We are proud of the contributions you are making towards the realisation of the Ministry's vision and mission. Your work is commendable."