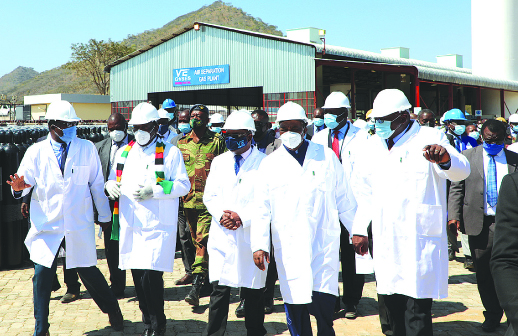 The ManicaPost
Cletus Mushanawani
News Editor
MANICALAND keeps making its presence felt in the national economy matrix following the commissioning of Verify Engineering's medical oxygen and solar power plants by President Mnangagwa at Feruka in Mutare yesterday.
The province is an undisputed giant in timber, ethanol and horticulture production as well as diamond, gold and phosphate mining and the commissioning of the medical oxygen and solar plants is not only a milestone for the province, but the country at large as the former plant has capacity to produce gas for export.
Verify Engineering has an installed capacity to produce 20 tonnes, 16.5 tonnes and 2.5 tonnes of gaseous oxygen, liquid oxygen and nitrogen, respectively, per day.
This production capacity will result in national self-sufficiency in these products.
Scope already exists to export surplus gas into the region to strengthen the regional capacity to tackle emerging challenges such as Covid-19.
Said President Mnangagwa: "The commissioning of this plant is yet another show of the local capabilities and skills by our young men and women who can now be depended on to set up new industries and other ventures from scratch.
"This is how we must continue to build this great country. The local production of gases by Verify Engineering will undoubtedly have far-reaching benefits.
The gas plant provides medical gas products, which enable healthcare professionals to avail optimal therapy for patients. Indeed, medical oxygen therapy is one of the World Health
Organisation's 30 essential medicines.
"Its provision is even more critical in the context of the ongoing Covid-19 pandemic which requires steady and consistent medical oxygen supply to ensure that patients who need it have access to it at affordable costs.
''Meanwhile, liquid nitrogen is also in high demand for use as a coolant for various medicines and vaccines."
The Verifying Engineering project is also part of the Second Republic's Science, Innovation and Technology Strategy which has a key objective of fostering the development of robust processes and methods of locally producing high quality products, as a means to leapfrog Zimbabwe's economy growth.
"Notwithstanding that atmospheric gas such as oxygen, nitrogen and argon are available from nature at no cost, we have been sadly importing these products. As such, upon learning of the potential for the production of medical oxygen and liquid nitrogen at Feruka, I tasked the Minister of Higher and Tertiary Education, Innovation, Science and Technology Development (Professor Amon Murwira), through Verify Engineering, to kick-start the project.
"In this regard, my Government provided the necessary institutional and financial support to ensure that the idea, which will impact various value chains, comes to fruition. Today's commissioning, thus, adds to the numerous testimonies of the successes made by the Second Republic in infrastructure development and industrialisation. It is further part of the bold programme of National Economic Reconstruction and Social Transformation, targeted at boosting productivity, competitiveness and efficiency levels," said President Mnangagwa.
The gases produced by Verify Engineering will also contribute significantly to other sectors of the economy.
"In agriculture, my Government made a deliberate decision to increase our national capacities with regards to aquaculture. Hence, oxygen gas from this facility will help boost fish yields thereby improving the viability and sustainability of fish farming as a business.
"As we scale up the mechanisation and modernisation of agriculture, liquid nitrogen will help in the maintenance and calibration of various farming equipment, that way reducing downtimes for farmers.
''The agriculture sector also uses liquid nitrogen for storage of biological materials used in artificial insemination in the livestock industry, which will contribute to boosting beef and dairy production," said President Mnangagwa.
Turning to how the oxygen plant is strategic to the mining sector, President Mnangagwa said: "In view of the exponential growth of the mining sector and the quest to realise a US$12 billion mining sector, readily available oxygen will facilitate various refining processes in gold and chrome, blast furnaces, steel making as well as metal fabrication among other aspects. I, therefore, urge Verify Engineering to ensure uninterrupted and cost effective provision of their products through providing comprehensive back-up and support services."
President Mnangagwa said the commissioning of a solar plant with a capacity to generate three megawatts of power will ensure that the oxygen and nitrogen gas plant is driven by sustainable and renewable energy.
"Ultimately, this should reduce the cost of production of the gases. Such initiatives are applauded and dovetail with Zimbabwe's commitments to the green economy and the creation of a clean and safer environment for all.
"It is, indeed, uplifting to learn that Verify Engineering designed this solar plant internally; taking advantage of their own internal design and engineering capacities. I challenge other stakeholders in the manufacturing sector to take a leaf from such pro-activeness. We must continue to develop our own industry internally and increase import substitution projects through the already available scientific and engineering expertise to leapfrog our industrialisation and modernisation agenda," he said.
As a token of appreciation for the splendid work being carried out by Verifying Engineering, President Mnangagwa donated a 72-seater bus to the company which is wholly owned by the Ministry of Higher and Tertiary Education, Innovation, Science and Technology Development.
Verifying Engineering also donated 1 000 oxygen bottles with a capacity to hold 9 200kgs of medical gas to the Government.