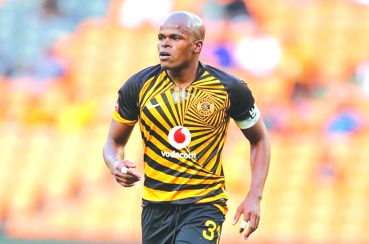 The ManicaPost
Ray Bande
Senior Reporter
IT'S 10 not out for Katsande!
Former Zimbabwe Warriors captain, Willard Katsande, is now set to go beyond a decade of service at giants, Kaizer Chiefs after his contract was extended by another year by the South African DSTV Premiership giants.
The 35-year-old hardworking midfielder's contract with Chiefs was due to expire this June.
Katsande has been with the Soweto giants since 2011 where he is considered as one of the club's legends due to his contribution over the years.
The contract extension also enhances Katsande's legendary status at the club, an elite group that includes countryman, Tinashe Nengomasha who had a distinguished career with Kaizer Chiefs spanning over a decade.
There could not be any better occasion for Katsande's contract extension than now as Amakhosi are basking in the glory of a first ever Total Energies CAF Champions League final qualification.
The final will be played on July 17 against Pitso Mosimane-coached Al Ahly.
However, Katsande now looks back with pride after an illustrious and consistent performance spanning more than a decade for one of Southern Africa's biggest football institution.
"I am focusing on the CAF Champions League final after exercising my one-year contract extension option. I am here for another year. I have the zeal to go on and on, but I can only listen to my body.
"I think I am still looking good for my age. I had not lost hope. A lot of people around me had lost hope, but I worked hard and managed to prove myself," said the gritty midfielder in an interview with Post Sport on Wednesday night.
Apart from the July 17 CAF Champions League final, the former Highway FC player has nothing new to achieve at Kaizer Chiefs.
Katsande won his first South African Premier League title with Kaizer Chiefs in 2012/13 season were he featured in 24 league matches.
They won the title with a game to spare after a one-all draw against Supersport United.
His second league title was in 2014/15 season.
This was arguably one of his best season at the club where he featured in almost every game of the season.
They won the league with three games to spare after an impressive 19 matches unbeaten run in the league. Katsande is a Nedbank Cup Winner.
This is South Africa's premier knockout trophy, equivalent to English's FA Cup.
Katsande played the entire final match as Chiefs claimed a 1-0 victory over SuperSport United in the final on May 25, 2013.
As if that was enough, there is no special goal moment than scoring in a derby match.
Derby goals are cherished and always remembered.
Katsande's goal in a derby against Orlando Pirates still brings back pleasant memories to him and to make it special – it was his first official goal for the club after joining in 2011.
He has been the club leader.
After captaining the side on an ad-hoc basis in the absence of more senior players during Stuart Baxter's tenure, Katsande was officially appointed the team's vice-captain in 2016 by Steve Kompela, but has been given the armband on several occasions. Katsande is also a MTN8 Cup winner.
After a six-year wait without winning the MTN8 trophy, Katsande helped Chiefs win the cup after defeating rivals, Orlando Pirates 1-0 to clinch the club's 15th MTN8 title.
He has been named the player's player of the season. After an impressive 2014/15 season, Katsande was honoured by his fellow teammates at the annual club's gala, when he was voted the players' player of the year for his outstanding season.
The gritty midfielder, who traces the roots of his career to the dusty streets of Sakubva, has been the fans player of the season.
After winning four player of the month awards and scoring seven goals to become the club's second top scorer of the season despite being a defensive midfielder — Katsande was the fans' favourite.
He was voted Vodacom fans' player of the year and also scooped the online player of the season award after overwhelmingly voted online by the fans.
Katsande has won the player of the season Award.
2014/15 was the best season for Katsande. One could not picture the Amakhosi midfield without the Zimbabwean hard-man, who has made a name for himself in the PSL and scored crucial goals for the club.
His ability to protect the back four made him one of the best destroyers in the country and was rewarded accordingly after being named the club's player of the season.
Katsande is one of the few players at Kaizer Chiefs, alongside Itumeleng Khune and Bernard Parker, to have played more than 300 games for the club.
It was a milestone he reached late last year.
Even though it was widely believed that he surpassed another Zimbabwe and Kaizer Chiefs legend Nengomasha's all time appearances of 311 appearances for the team, latest stats released by Amakhosi indicate that they are now tied on 325 matches.
"I was also mistaken since I thought Tinashe Nengomasha played a total of 311 matches, but the latest statistics released by the club indicate that we are tied on 325 matches," said Katsande.
Doctor Khumalo is the record holder with 397 appearances for Amakhosi followed by Spiwe Tshabalala on 372, Brian Baloyi is on 347, while Itumeleng Khune is on 330. Thabo Mooki is on 329 followed by Nengomasha with 325 appearances.
Having written his names into the annals of Kaizer Chiefs history, Katsande will go down as an Amakhosi legend for years to come.
Neil Tovey, a Chiefs legend in his own right after playing for the Soweto giants from January 1991 until he retired in 1999, said Katsande's great career at Naturena merits legendary status.
"To play 10 years, it shows you have done something good for the club. You know there is not a lot of players who played 10 years for a club. It shows the club believes in you and you believe in the club," Tovey said.
"He has earned it. It is up to the club and the fans to decide on that."