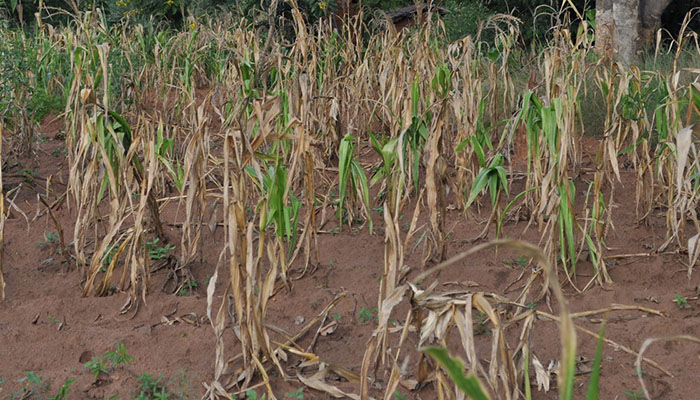 The ManicaPost
Samuel Kadungure Senior Reporter
BLAZING temperatures and the dry spell characterising Manicaland have caused untold anguish among farmers, as growth has stalled in crops, forcing some farmers to suspend field operations.
Some fields have since been left fallow while some have not been weeded. The early summer maize crop is at the critical tussling stage and wilting due to moisture stress has also started.
The lean period has also negatively affected the water levels in most dams and major rivers, putting even the irrigated crop in the province at risk.
In dry natural regions three, four and five farmers are already counting losses, as some of the maize is now a writ- off.
Also affected is the dryland tobacco and small grains. Tobacco is false ripening, putting both harvesting and curing pressure on hard done farmers.
The Meteorological Services Department has forecast little and isolated rainfall activity in Manicaland, but the persisting dry and hot conditions have triggered strong fears among farmers that crops may never reach maturity.
This may put the province at risk of failing to produce enough to meet food requirements of its growing population and livestock.
Agritex head for Manicaland Mrs Phillipa Rwambiwa said only 10 percent of the crop was in good condition.
"In regions one and two the crop is fair, but in regions three, four and five the crop is stressed and wilting due to lack of moisture. The crop at irrigation schemes is good because they are irrigating," said Mrs Rwambiwa.
Farmers in some drought-prone communities had planted, but the crop has already been irreversibly damaged by the prevailing dry spell.
This has left many raising alarm that the province should start preparing for the worst.
"The crop can only be resuscitated if we are to have rains soon. However, the yields will be reduced. If it doesn't rain the crop will be a write-off. In regions three, four and five many fields were left untilled due to the dry spell. In these areas farmers have also suspended weeding and fertilizer application because there is no moisture," said Mrs Rwambiwa.
MSD head of forecasting, Mr Tich Zinyemba said residual moisture coupled with high day time temperatures could cause some light rain showers and isolated thunderstorms in the northern parts of Manicaland.
"During this period, it is forecasted that daytime temperatures should average between 28 degrees Celsius and 37 degrees Celsius. This is likely to cause more distress to crops already overburdened by moisture stress and bring discomfort to both humans and animals. Direct exposure to solar radiation should be kept to a minimum, especially during the hottest part of the day, which is between 11am and 3pm," he said.
The SADC Climate Services Centre recently issued a heat wave alert from Saturday January 20 to last Tuesday.
Mrs Rwambiwa said farmers should act on sound agronomical advice — since the seasonal cycle and rainfall patterns have changed.
As farmers looked forward to rains for this summer cropping season, some are referring nostalgically to the "good, old days" when weather patterns used to be dependable and the start of the planting season unambiguous.
Today's climate has deviated from the past — the seasonal cycle, rainfall and weather patterns have changed due to climate change — occasioning frequent droughts, crop pest and disease incidences.
Temperature has increased drastically and the winter period has shortened.
Not only does this climate variability and climate change affect crop production, but also water access and availability, human and livestock health and may also cause damage to dwellings and infrastructure.
Even the production of horticultural produce and fruits, including the common varieties of mangoes, have been affected by the increased variations in rainfall, dry spells, temperature and drought occurrences.
This has put to the fore the need for farmers to diversify their livelihoods and sources of income and take up emerging technologies in bee keeping, small livestock — goat farming, cattle-fattening, nutritional gardens, drip irrigation and mushroom to broaden their streams of income.