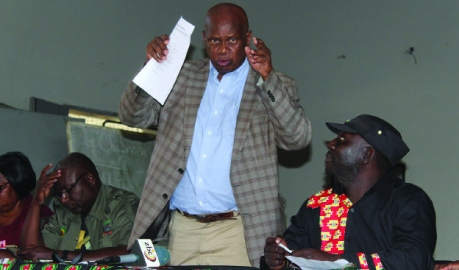 The ManicaPost
Samuel Kadungure
Senior Reporter
IT'S all systems go for the ZANU PF primary elections in Manicaland after the Provincial Elections Directorate announced the final list of 108 parliamentary aspiring candidates whose Curricula Vitae (CVs) sailed through the stringent vetting which saw14 aspirants falling by the wayside.
About 122 aspiring candidates had submitted their CVs, gunning for the 26 constituencies in the province.
The successful 108 will go into battle in primary elections set for tomorrow (Saturday).
The primary elections results will be announced at national level next week.
Of the 13 candidates that eyeing six senate seats, three were disqualified while 11 remained in the race.
Twenty-nine candidates were given the nod to contest for the six Women's Quota slots.
Four candidates below 35 years will fight for one Youth Quota seat.
About 917 will contest for the 260 local authorities seats.
The ruling party vetted the aspiring candidates against a backdrop of the strengths, weaknesses, opportunities, threats and political mood within their respective constituencies.
Among those who failed to make it were former ZANU PF national youth secretary, Cde Kudzi Chipanga (Headlands);Cdes Moses Ruwona (Makoni West);Simba Mwaingeni (Chipinge Central); Robert Nyemudzo (Chipinge South); Witness Madzitutira; TonderaiMakwanya and Brighton Mupfupairi (all Makoni North); Moses Maya (Mutasa North);Moses Kavhenga (Nyanga South) and Evans Kamombo, among others.
Primary elections are part of ZANU PF's internal democratic mechanism to give the grassroots an opportunity to select the right candidates to represent the party in the harmonised elections expected later this year.
Already, campaign posters have been pasted all over the province and on social media platforms as candidates make the final push to win the hearts and minds of cell members who form the Electoral College.
ZANU PF national secretary for finance, Cde Patrick Chinamasa will supervise the primary elections, together with local Central Committee members.
On Wednesday, Cde Chimanasa addressed the Provincial Elections Directorate, explaining guidelines on how the primary elections will be conducted.
At least 11 000 cells are expected to vote.
"The polling will be at the usual meeting place of each party district. The cell members will converge at the district meeting place where the voting will take place. We will use the stamped cell registers prepared over the last three weeks as the voters' roll. Every member should bring their national identity card to be eligible to vote," said Cde Chinamasa.
He said candidates should embrace each other as potential partners to create a strong support base as the party gears for a resounding victory for Presidential candidate, Cde Emmerson Mnangagwa, in the forthcoming harmonised elections.
Cde Chinamasa warned against the alienation of former rivals and those who failed to make it.
"My word to all aspiring candidates who failed to make it is that they should support those who were successful so that they demonstrate that they are indeed committed to ZANU PF's success. As we go into the primary elections, President Mnangagwa wants these elections to be peaceful. An ad-hoc committee has been set up to deal with any complaints arising from the conduct of candidates who may unleash violence on rivals," he said.
Cde Chinamasa said ZANU PF should guard against complacency, adding that the party must be driven by competitive ideas and real substance as opposed to parochialism.
He warned unscrupulous elements in Nyanga and Mutare districts who are allegedly threatening a cast protest votes if they lose during the primary elections.
"If we find a member, no matter what their rank, campaigning for bhora musango after losing the primary elections, we will deal decisively with them. We will not hesitate to expel you from the party. We are hearing this in Nyanga and Mutare districts.
"Do not mock those who did not qualify. Instead, we must campaign fiercely for President Mnangagwa and be prepared to work with everyone, including returnees who are helping us to lure some voters from the opposition," he said.