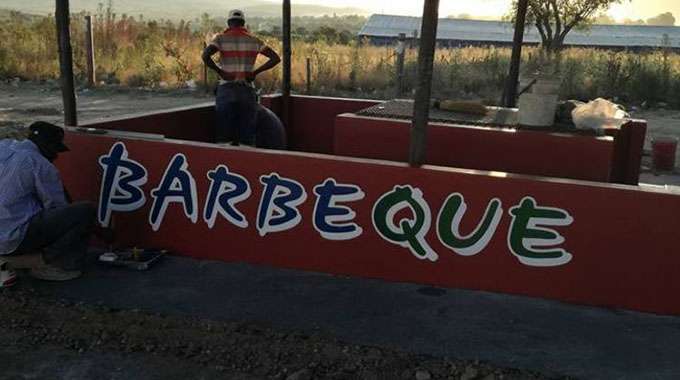 The ManicaPost
Liberty Dube Entertainment Correspondent
HUNDREDS of imbibers and pleasure seekers will tomorrow converge at Villa Spot in Dangamvura for the first ever beer and braai festival to be held in Manicaland.
The fete is sponsored by leading beverages manufacturer, Delta Beverages, as a build up to the national event that will be held in Harare next month.
Arguably Mutare's most talented artiste, Lionel 'Caff' Matanda, will headline the much-awaited Castle Lager beer and braai festival.
A Delta official who could not be named citing protocol said the concept would see beer and meat being sold at lower prices and there will be lots of prizes to be won, among them braai stands, cooler boxes and beer.
"This is a packed day and night which will see people enjoying their beer and meat at low rates. Free entertainment will be provided and we are glad that Caff and his management have all confirmed their availability. Preparations are at an advanced stage," said the official.
Caff will perform in the evening while deejays Libz Kartel, Mbale, Famous, Hollies, Stylez and Cech will also take turns to entertain revellers till the last man drops. Resident Villa Spot deejays, Quick, Shammie D, Brizz and Flame Jordan will also showcase their skills on the turntables.
The Perfect to me hit-maker, Caff, whose stock continues to rise is one of Mutare's shinest stars in the music fraternity and has released danceable tracks such as Ndiwe, Formular and Manager, among others. He is currently working on his debut album titled, 'A boy from Mutare' which is being produced by Harare-based producer Oskid.
"I am excited to be part of the event. I feel honoured and for the first time is so many months I will be playing with a live band. I have embarked on a provincial tour to popularise songs contained on my new album I will be performing at Chinyausunzi Bar in Sakubva tonight (Friday) before tomorrow's mega gig. We will not disappoint," said Caff.
The event which is expected to draw scores of fun lovers and pleasure seekers from across Mutare is the first ever beer and braai festival to be held in the eastern border city by organisers Delta.
It will be part of build-up activation to the main festival — Castle Lager National Braai day which will be held on October 25 and 26 at Old Hararians Sports Club in Harare.
In a statement, Delta Beverages, said: "As part of cementing our communication platform "It all comes together with a Castle. This braai day will see the Gigmaster (music), the braaimaster (braai) and the brewmaster (Castle) coming together. It is a day filled with fun and activity where records will be broken. To add to the excitement each year a braaiometer will be on site showing the consumption levels of meat as the day progresses. Meat consumed in the build-up activations will also be added," the organisers added in a statement.
Villa Spot manager Lloyd Mabondongwe said: "We are overwhelmed by the response that we have received so far. Fun lovers as well as our patrons are excited by this. We are ready to host the event. It will be held at the back yard where there is adequate space. Beer and meat will be in abundance. Security and other logistics are in place. This is a platform for local deejays to shine as they will be accorded a chance to take time to show their prowess on the turntables."