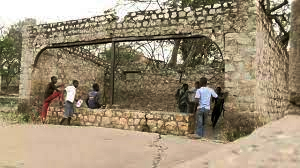 The ManicaPost
Ray Bande
Senior Reporter
KEY stakeholders, not only in the game of football, but community development have added their voice to the genuine plea to have the good old state of Sports Oval arena restored for the benefit of the current and future generations.
Located in the sprawling suburb of Sakubva's Old Location, Sports Oval is in a deplorable state and an apparent need for City of Mutare authorities to act is too loud to ignore as each year passes by without anything being done.
Old Location opinion leader as well as player manager, Donald 'King Azurie' Manhende said: "When we talk of community development, these are the things we are talking about.
"Restoring the old good state of Sports Oval will result in more youngsters being eager to spend time playing different types of sports at the facility. This is one of the major ways we can do to tackle issues relating to drug abuse.
"It is important that those in authority realise that when a sports facility is located near youths' homes, it gives them a challenge to use it.
"It is different from having to walk a long distance just to get a good sports facility," he said.
South African-based Sakubva born construction entrepreneur, James Lunga Meya, who always makes sure that during every December holiday he arranges matches with his former teammates and upcoming youngsters to entertain the community in Sakubva and other suburbs, said: "Besides engaging the previous Mutare City Council administration by putting a proposal of a Build, Operate and Transfer (BOT) arrangement around 2010 on Sports Oval, which did not materialise, I am hoping to engage the new administration and hopefully a new way forward regarding the refurbishment of the Sports Oval will succeed this time."
According to Meya, who is into the construction of stadiums, roads and water projects, renovating and maintaining facilities like Sports Oval also helps to eradicate poverty and create job opportunities for the locals.
"It has always been my hope that I will get a chance to share my expertise, experience and ideas with the council and come up with amicable ways to refurbish our facilities, Sports Oval included.
"At the end of the day, it is all up to the council, as the custodians of the facility to see value in our contributions as people born and raised in Mutare.
"I hope that the people running local authorities will understand that the renovations and maintenance of these facilities like Sports Oval also helps to eradicate poverty and create job opportunities too within the communities."
◆ Please note: This is the second part of a series of articles by Post Sport on the need to give attention to some of dilapidating sports facilities around Manicaland with the Sports Oval campaign being the first.