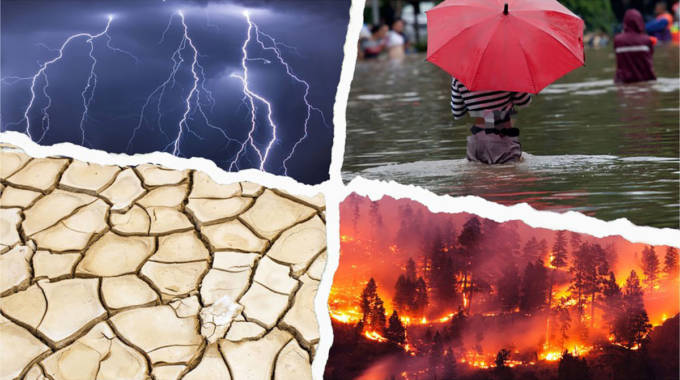 The ManicaPost
Ray Bande
Senior Reporter
"THE cold spell being experienced in most parts of the country will persist until Saturday while light rains are also expected. This is attributed to a weather phenomenon known as 'Cut-Off Low', which has induced some rainfall in most parts of the country.
"From Sunday, some parts of the country have been experiencing some light rains, which were coupled with low temperatures. Over the duration of the cold spell, maximum temperatures will not exceed 19 degrees Celsius up to Saturday. The public is also being warned of the possibility of frozen rain in some parts of the country, but this should not be mistaken for snow.
"Farmers are urged to harvest part of their crops that need to be harvested so that they are not affected by the light showers. The cold spell could cause respiratory illnesses. Minors and the elderly are the most vulnerable. Members of the public are urged to wear warm clothing during the cold weather event and to desist from starting open fires."
Notices like this one, published early this week by the country's Meteorological Services Department, have become common in recent years. Similar notices are circulated when extreme cold weather conditions pave way for extreme hot conditions.
The same applies for rainy weather conditions and suffice to say, this is now part of this generation's everyday life!
But do we, as a society, know the causes of these tragic conditions we find ourselves in as well as what we ought to do to safeguard the interests of present and future generations?
It is crystal clear that the need to avert to these catastrophic effects of climate change, epitomised by the prevailing extreme weather conditions, starts with you and me.
Climate change expert, Mr Tapiwa Junior Karimuko said these extreme weather conditions are the direct results of climate change.
"It is a result of the developmental activities that we are carrying out as humankind.
"While it is true that greenhouse gases are needed for our everyday existence, too much of them have resulted in these extreme weather conditions. Our human activities that range from farming, mining and many other developmental initiatives have given rise to this trend over the years.
"The existence of too much greenhouse gases in the atmosphere results in too much energy in the atmosphere and that energy then releases itself through tropical storms, cyclones, extreme cold weather conditions and other adverse weather conditions," said Mr Karimuko.
The primary greenhouse gases in earth's atmosphere are water vapour, carbon dioxide, methane, nitrous oxide and ozone.
What are some of the major causes of the emission of greenhouse gases into the atmosphere, some might question?
Mr Karimuko said: "The development activities that we carry out everyday are the major causes for this trend. Farming, for example, is a major cause for emission of greenhouse gases if done in a way that is not environmentally friendly.
"The sources of energy that are not environmentally friendly also contribute in a major way. Right now we rely mostly on intensive forms of electricity generation, which are not recommended for our environment. The rampant deforestation going on in different parts of the country is also not good for our present climate and the future."
Given this background, what can be done to ensure sustainable development?
Mr Karimuko said: "This is the age of smart agriculture if we are to leave a legacy for future generations. The use of zero tillage farming methods or initiatives such as Pfumvudza which allows for minimum tillage goes a long way in combating the emission of gases from the soil.
"Use of fertilisers has also contributed in the emission of greenhouse gases and there is need to shift to bio fertilisers. Solar powered irrigation is the way to go, instead of the diesel powered irrigation. After all, as a country, solar is our biggest alternative source of renewable energy."
"It is time we take climate change seriously. Production of lithium batteries, for example, can suddenly turn us into a regional leader in the production of renewable energy products using the lithium deposits we have as a nation, and more particularly here in Manicaland. We desperately need to act on these adverse effects of climate change," he said.
Zimbabwe is reportedly sitting on a number of Rare Earth Elements (REEs) which are widely used to make powerful permanent magnets for lightweight electric motors, phosphors for television monitors, catalysts for cars and chemical refineries, rechargeable batteries for hybrid and electric cars, generators for wind turbines, as well as numerous optical, medical and military devices.
Of note is the much-needed production of lithium batteries that can be a game changer as far as the country's investment in renewable energy is concerned. Research has shown that the most valuable REEs are those found at Chishanya in Buhera and Songwe Hill in Malawi.
In a recent interview with The Manica Post, Prospect Resources executive director, Mr Harry Greaves said results obtained from the samples were encouraging.
"Although the project is in its early stages, the results we have obtained from the samples are very encouraging. This is very interesting and more work needs to be done. Sampling will continue for a couple of months and we hope that very soon there will be a lot of progress," said Mr Greaves.