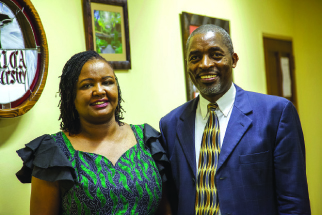 The ManicaPost
Post Reporter
KENYAN national, Professor Peter Mageto has been appointed Africa University's fifth Vice Chancellor.
The appointment was made by Africa University's board of directors recently.
Professor Mageto is the first non-Zimbabwean Vice Chancellor in the university's history.
His appointment comes as the Pan-African institution is celebrating 30 years of impact and transformation in action.
In statement, the university said: "The appointment reflects the international thrust of the university and is in keeping with its Pan-African spirit."
Professor Mageto previously served in the capacity of Deputy Vice Chancellor, leading the reimaging and repositioning of Africa University's programmes to create graduates who are fit for purpose with a desire to lead the development of the continent.
He had been the acting Vice Chancellor from January 2021 until the recent appointment.
Said Africa University in a statement: "Led by the university board chairman, Bishop Mande Muyombo, the search committee over the past nine months served with dedication and divine conviction to shortlist over 3 000 applications for the position, that were received from Africa, North America and Europe to identify the next leader of Africa University."
The statement added: "An accomplished academic grounded in the study of ethics and leadership, Professor Peter Mageto's vision and grounding philosophy is best captured in four words – our people, our values.
"The charting of the university's next glorious decade is to be built upon a foundation of academic excellence, innovation, accountability and institutional advancement. The journey ahead is one filled with immense promise and guided by unwavering faith."