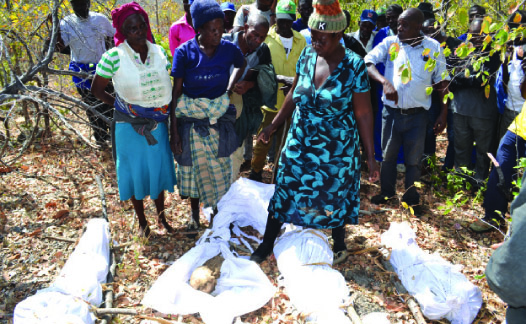 The ManicaPost
Tendai Gukutikwa
Post Reporter
KANINDO tunes from the 1970s could be heard playing from a distance as a group of volunteers exhumed the remains of fallen freedom fighters.
The exhumers sent a team to check the source of the music.
The emissaries were supposed to ask whoever was playing the music to turn down the volume a bit so that the exhumers could concentrate on exhuming their fallen counterparts' skeletal remains from a disused mineshaft in Mapembe area of Mutare District.
When the team arrived at the source of the music, the sound had moved.
It could now be heard playing in the direction where the exhumation was taking place.
The team rushed back to the exhumation point and the sound shifted once again.
This happened for a while until the exhumers concluded that their fallen comrades were the ones playing the music they enjoyed during the liberation war — in spirit.
The departed comrades were probably celebrating the fact that their remains had been found and what the closure of their exhumation and reburial meant for their families.
The remains of this group of 84 fallen heroes were found buried in a disused mineshaft in Mapembe Mountain.
This led to the establishment of Matumba Six Shrine at Chiremba Mountain near Old Mutare Mission.
The place is now the final resting place of scores of liberation war heroes that are being exhumed from mineshafts or shallow graves from across the province.
During the liberation war, the Rhodesians had a horrendous system of disposing the remains of those they killed or executed, and it included throwing victims' bodies in disused mineshafts, as well as burning them alive in incinerators as villagers watched.
The need to document the liberation struggle history and preserving a legacy for upcoming generations has seen the surviving liberation war heroes and their children manning the shrine constructing a liberation war museum at Matumba Six.
While generating revenue as a tourist attraction, the museum will tell the story of the fallen heroes in many ways, according to Zimbabwe Liberation War Veterans Association Manicaland chairperson, Cde Gift Kagweda.
Speaking in a recent interview, Cde Kagweda said about 400 liberation war heroes are now buried at the Matumba Six Shrine, with 30 more expected to be buried there today (Friday), which is part of a rich history that needs to be documented and preserved.
He said artefacts like helicopter and armoured vehicle parts, bullet cartridges, AK47 guns, grenades, army uniforms and many others that are usually found in the mineshafts and shallow graves with the remains of the fallen heroes will be displayed in the museum.
"More remains have been exhumed in Odzi. In Chiware area of Rusape, a shaft at Ardwell Mine had the remains of at least 300 people. This brought the number of people buried at Matumba Six Shrine since 2014 to 397," he said.
"Our comrades suffered at the hands of the Rhodesians and were further denigrated by having their remains buried in the same graves with Selous Scouts' horses that would have been killed during battle. That pain can never heal. We should ensure that our beloved comrades get decent burials so that their families get closure," he said.
Mutasa South legislator, Cde Misheck Mugadza said it is sad that 42 years after independence, many fallen heroes are yet to get proper burials.
He went on to commend Government for putting in place a Liberation War Mass Graves and Human Remains Management Policy which helps in addressing some of the challenges being faced in maintaining some of the heroes' shrines.
Cde Mugadza said liberation war museums will help in financing the search for the fallen liberation war heroes who remain missing.
"The revenue that will be generated here will not only be channelled towards this shrine, but the whole country will also benefit. I have been to countries that have a thriving tourism industry, but their tourist attractions are nothing close to what we have here in Zimbabwe.
"This is our history which our brothers and sisters wrote and it deserves to be known, we will do this through this museum. All we need is financial support so that this dream comes to fruition and our children and grandchildren will also benefit from this history," said Cde Mugadza.
War veterans' Mutasa District political commissar, Cde Golden Nyakatsapa said there is need to work together as a country in the reburial of liberation war heroes.
"There are still a lot of missing comrades and their families need closure. It has been 42 years since we attained independence and they are still waiting. It is our responsibility to search for them and reunite them with their families, even if they are already dead. They deserve decent burials," he said.
There are three tombs of unknown soldiers at the shrine.