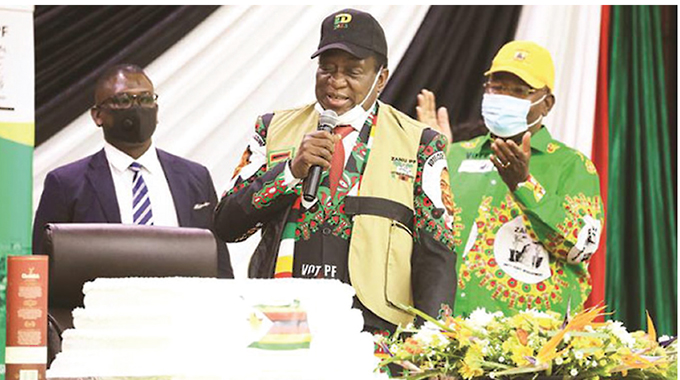 The ManicaPost
Cletus Mushanawani News Editor
PRESIDENT Mnangagwa, who turned 78 on Tuesday, is proving to be a man of his words.
Born on September 15, 1942 in Zvishavane District, President Mnangagwa has shown the world that he is a result-oriented person.
In two years since his inauguration in September 2018, the country has experienced growth in various sectors.
A number of developmental projects have taken off the ground, while the devolution juggernaut is gaining momentum to change the face of the communities that were once marginalised.
Born to Mr Mafidhi and Mrs Mhurai Mnangagwa, President Mnangagwa has lived to his parents' expectations.
According to his words in a recent interview: "My parents taught me differently. My father always wanted me to go to school, become a lawyer and reply whites in English. That is what he wanted, because he felt that when they speak in English and had to be translated, he did not feel confident that the translation was correct.
"So he felt that I must go to school, become a lawyer and reply whites in English. But for my mother, she was different. She wanted me to be a family person, be a farmer. She felt that there is nothing that keeps you solid as a family if you have a farm, cattle, goats and chickens. I have achieved both, for my father and mother."
In his inauguration speech after romping to victory during the 2018 Presidential plebiscite, President Mnangagwa said as per Zanu PF's pledge during the campaign trail, Government will be implementing the Constitutional provisions on devolution of Government's powers and responsibilities.
Under the devolution agenda, provinces are now expected to plan and grow their provincial economies.
Despite grappling with the Covid-19 pandemic and natural disasters like Cyclone Idai, Government this year set aside $2, 9 billion for local authorities and treasury has already released $290 million for different development initiatives in all the country's 10 provinces, based on a number of factors such as poverty levels, quality of infrastructure and the population.
"Under the Second Republic, economic development at every level is the ultimate goal. I therefore challenge local authorities in the Second Republic to be the engines of local economic development and growth. My Government will not stand by and watch people suffer due to dereliction of duty, corruption or incompetence within our local authorities," said President Mnangagwa.
On measures to correct the fiscal imbalances that were threatening to undermine the viability of the financial sector as reflected through the spiralling cash shortages and the distortions plaguing the foreign currency exchange market, Government moved in to stop the rot through pegging daily maximum withdrawals, a move that has seen rates stabilising both on the formal and informal markets.
Addressing the Zanu PF provincial executive in Gweru recently, President Mnangagwa said Government was forced to carry out investigations to locate the source of the galloping inflation in Zimbabwe.
"We went through hardships, where prices were going up every day, the exchange rate was flying. We then set up a committee to look into the issue.
''We then discovered that there was up to $8, 4 billion which was circulating outside the banking system, which money in financial terms is called phantom money.
"We discovered that Ecocash was creating that.
''We were able to get to the servers and that is where we got to the root of the corruption. We discovered that in some situations, a single person renting in a residential area, one who has never been gainfully employed, would be trading $86 million in a day.
''This person has never worked anywhere, and no one has ever complained of losing their monies before."
In response to the cash crisis, Mnangagwa said: "We are now only allowing transactions of a maximum of $5 000 per day.
''There was more non-official money outside the banking sector, which was driving inflation in the country."
A lot of positives have also been seen in the agricultural sector this year.
History was recently made when Government committed itself to pay US$3,5bn in compensation to former white farmers whose land was expropriated to resettle indigenous farmers.
Speaking at the occasion, President Mnangagwa said: "This brings closure and a new beginning in the history of the land discourse in Zimbabwe."
Farmers will receive 50 percent of the compensation after a year and the balance within five years.
In yet another testimony of the success of President Mnangagwa's re-engagement efforts, the country's critical agricultural sector in June received a shot in the arm aimed at boosting output and reduce poverty after the United States of America headquartered John Deere company rolled out a US$51 million farm mechanisation facility.
The facility by John Deere came at a time when the Second Republic, under President Mnangagwa, has been pursuing international engagement and re-engagement with all nations in order to attract foreign direct investment.
It also comes as the Government has made agricultural transformation and the attainment of food self-sufficiency one of its key priorities.
Government has prioritised road rehabilitation as a key enabler to transform Zimbabwe into an upper middle-income economy by 2030.
Work on the Beitbridge-Harare-Chirundu Highway rehabilitation has already commenced, with President Mnangagwa saying the project will be completed by 2022.
The highway is the busiest in the country and is part of the North-South Corridor linking the country to SADC, Comesa and East African states.
The North-South Corridor Road project is defined as a multi-modal trans-continental inter-connector, ultimately connecting Cape Town in the south and Cairo in the north.
Its rehabilitation will stimulate development for the country and the region and is expected to carry over 50 000 million vehicles in the next 20 years.
President Mnangagwa summed up everything in his inauguration speech when he said: "As I have repeatedly said in the past months, real change does not happen overnight.
''However, inspired by our national anthem, we must work together, nothing is beyond our reach. With love and unity, we will reach the Promised Land, we will build the Zimbabwe we all want, brick upon brick, stone upon stone."