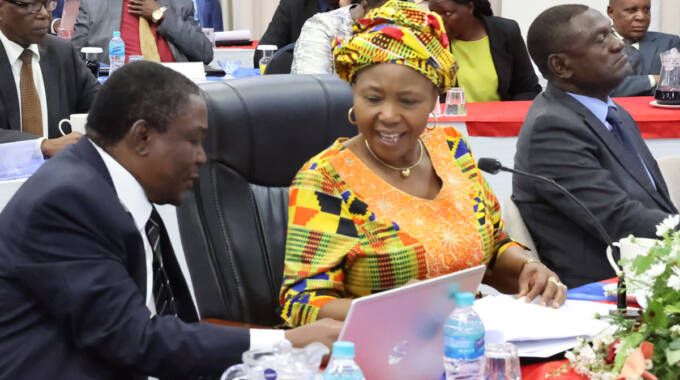 The ManicaPost
Ray Bande
Senior Reporter
GOVERNMENT, working together with development partners, is set to clear landmines in all areas along the Eastern Highlands border with Mozambique by 2025, with 90 percent already demined to ensure that economic and social activities in those areas affected are done freely.
At national level, demining is at 87 percent.
This was revealed by Defence Minister, Honourable Oppah Muchinguri-Kashiri during her ministry's strategic planning and review workshop in Mutare this week.
Minister Muchinguri said: "I want to let the Minister of State for Manicaland Provincial Affairs and Devolution know that 90 percent of all the landmines that were laid along the border with Mozambique here in Manicaland have been removed.
"We are hoping that as we move towards attaining our target in 2025, we should have cleared all the mines laid in Manicaland to make sure that people's economic and social activities in those areas are not affected, said Minister Muchinguri-Kashiri.
By October last year, a total of 15 million square metres of land had been cleared of anti-personnel landmines from Burma Valley to Sheba Forest in the Eastern Highlands, thereby making it productive after 42 years of being locked from all forms of development.
The demining exercise was spearheaded by Government and a development partner, Norwegian People's Aid (NPA, following the signing of a Memorandum of Understanding between the two parties in 2012.
The MOU mandated NPA to raise funding from willing donors to demine anti-personnel landmines in Burma Valley, Leacon Hill, Sheba, Rusitu and Muzite minefields in Manicaland.
A total of 28 318 anti-personnel landmines were also destroyed during the demining exercise.
On July 12 last year, NPA completed the clearance of the Border Streams Minefield Three which included sectors one, two and three along the Zimbabwean border with Mozambique.
Following that exercise, a considerable size of cleared land in the area was handed over to the local community by Minister Muchinguri-Kashiri.
The anti-personnel clearance exercise will benefit 88 346 people in Manicaland.
In Border Streams, school children who had to cross the minefield to attend school no longer have to worry about the landmines.
Families are now using the land for farming and grazing their livestock.
Speaking at the hand-over ceremony last October, Minister Muchinguri-Kashiri said the demined land is now being put to good use by farmers who have ventured into banana, macadamia and tobacco production.
"This positive development augurs well with our national aspirations of freeing all the mined land for productive usage. Completion of the Leacon Hill to Sheba Forest Minefield leaves Norwegian People's Aid with the Rusitu to Muzite Mission minefield in Chipinge as their remaining area of responsibility. Completion of this particular minefield is projected for year end.
"It is heartening to note that the progress being registered by our demining partners has significantly contributed to the current high international ranking of Zimbabwe Mine Action programme," said Minister Muchinguri-Kashiri.
The history of the landmines in Zimbabwe can be traced back to the war of liberation.
At the peak of the liberation struggle, from 1976 to 1979, the Rhodesian Army laid minefields along the country's eastern and northern borders with the aim of creating barriers and inhibiting the inward and outward movement of liberation war combatants from their bases in Mozambique and Zambia.
An estimated three million anti-personnel mines were laid in six minefields, with a cumulative distance of approximately 850km.
While most of these minefields were clearly marked, human activities resulted in the vandalisation of the markings, thereby leaving locals at risk of being killed or maimed by the mines.
On Tuesday, Minister Muchinguri-Kashiri said the 2025 landmine clearing target also covers the whole country.
"We are going ahead with the removal of land mines countrywide and aiming at making Zimbabwe landmine free by 2025. We hope that this will save lives and also enable development initiatives to go ahead unhindered in the affected areas.
"I also want to mention that 87 percent of all landmines across the country have been removed. These mines were dotted here in Manicaland, Masvingo, Mashonaland West, Mashonaland Central, Mashonaland East, Matebeleland North.
"As I speak, we only have 13 percent remaining. We remain determined that we clear all these landmines. People staying in the affected areas live in fear until we successfully address the problem," said Minister Muchinguri-Kashiri.
Mines and unexploded ordnance are a terrible legacy of war, long after the guns have fallen silent.
Hidden from sight, landmines continue to kill and injure innocent civilians going about their daily lives, especially children.
Their very presence hinders development and prevents families and communities from being able to return to their land and rebuild.
Landmines have maimed and killed more than 1 500 Zimbabweans and 120 000 livestock since independence.
Communities living in mine-infested environments live in fear, have limited access to critical resources and basic services, and struggle to derive economic value from what would ordinarily constitute productive land.
The cost of mine clearance, victim assistance, and mine risk education weigh heavily on nation-building efforts in post-conflict states saddled with other competing priorities.