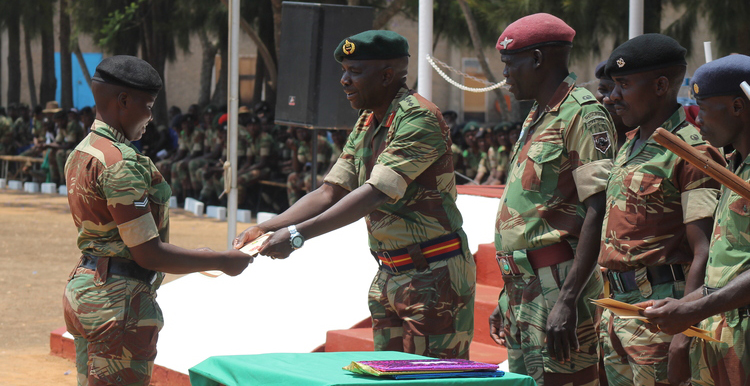 The ManicaPost
Moreblessing Mugumbate Post Correspondent
A TOTAL of 79 students, 16 of them females, drawn from various Zimbabwe National Army (ZNA) units recently graduated with certificates after completing a 14-week general squad drill and small arms course at 32 Infantry Battalion in Rusape.
Officiating at the graduation ceremony, ZNA director transport, Colonel Shackman Chizengwe said the aim of the course was to equip soldiers with the requisite knowledge and skills in all aspects of drilling a squad, good discipline, employment of small arms and other fundamental soldiering skills.
"The course was designed to equip you the right knowledge and attitudes to ensure you manage to drill a squad without supervision, efficiently conceal section weapons as required by your Platoon Commanders, dress smartly in all military dress as well as understand the history of Zimbabwe," Col Chizengwe said.
Col Chizengwe said Army Headquarters was aware of the challenges students encountered during their course of training and was working hard to address them. He however commended them for their fortitude and resilience.
"I am aware that you encountered some challenges during your course of training especially in terms of training kit and transport. Army Headquarters is aware of these and is working hard to address them. I appreciate that you soldiered on and conquered. It is because of such resilience and hardship that the ZNA continues to score remarkable success under adverse conditions. I salute that spirit," Col Chizengwe said.
Col Chizengwe challenged troops to remain loyal and disciplined, saying discipline was the hallmark of a professional soldier.
He wrapped up his speech by thanking the School Commandant, Lieutenant-Colonel Anderson Chibvongodze and his training team for their sterling job of offering quality tuition to the junior commanders.
The course covered subjects such as field craft, weaponry, asymmetric warfare, foot and arms drills, crime and security awareness, among others.