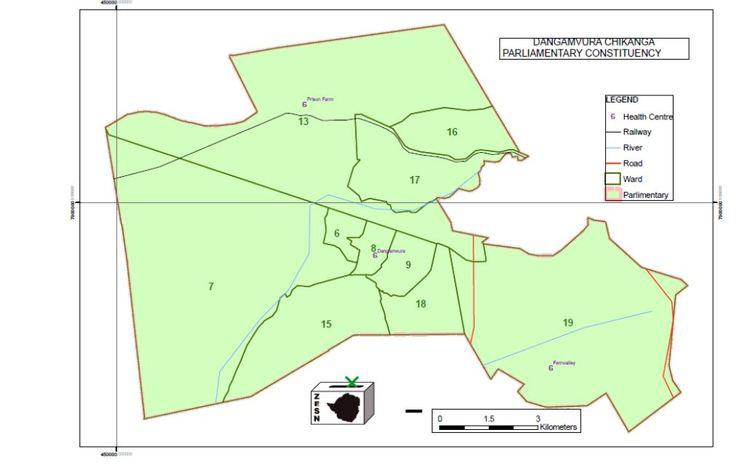 The ManicaPost
Samuel Kadungure and  Liberty Dube—
DANGAMVURA-CHIKANGA is set to witness one of the most tightly fought electoral battles as 15 candidates, the highest number of contestants per constituency in Manicaland, scramble for endorsement by the electorate on July 30.Apart from having the highest number of contestants, Dangamvura-Chikanga constituency has the highest number of registered voters at 60 714, which makes it the citadel of politics in Manicaland and the country at large. Statistics show that nationally, it is second to Epworth.
The battle for political supremacy will be fought among 15 political gladiators – the incumbent Cde Isau Mupfumi (Zanu-PF), Mr Prosper Chapfiwa Mutseyami (MDC Alliance), Mr Joachim Hatizivi Nyarande (Independent), Mr Misheck Nyazenga (Independent), Mrs Judith Rusike (Zimbabwe Democratic Union), Mr Tarisai Totena (1980 Freedom Movement Zimbabwe), Mr Norman Tsikwa (Independent), Mrs Memory Ziduche (National Constitutional Authority), musician-cum-politician Hosiah Chipanga (Independent), Mr Ngoni Choto (Zimbabwe Partnership for Prosperity), Mr Alec Jerimani (Chief's Party), Mr Richard Chengetai Kadzere (Independent), Mr Emmanuel Machikwa (Alliance for People's Agenda), Mr Rajab Taziveyi Maeresera (People's Rainbow Coalition) and Ms Lynette Tendayi Mudehwe (MDC-T).
The real battle will, however,  be fought between Cde Mupfumi and Mr Mutseyami whose parties dominate the political space in Manicaland.
The two are arguably the most powerful and active political figures in the constituency while the rest lack political structure, stamina, finances and manpower to put a good fight.
Mr Mutseyami is the outgoing MP for Musikavanhu, whose decision to switch to Dangamvura-Chikanga shook the political power brokers in MDC-Alliance leading to his recent brutal attack by a rival faction.
Many people view the power contestation between the two as unpredictable. Cde Mupfumi, who enjoys the incumbency, has an upper hand in the Dora part of the constituency while Mr Mutseyami is banking on the central part.
Cde Mupfumi had this to say: "Zanu-PF is going to win the Dangamvura-Chikanga seat resoundingly. The fact that there are many candidates from the same parent political party means these candidates are fighting among themselves, and the splitting of votes that could have gone to opposition candidate will work to the advantage of Zanu-PF.
"The new dispensation has enticed a lot of people into registering to vote, which goes to show that Zanu-PF has won the confidence of those new voters. Presidential Mnangagwa, myself and all the councillors in the constituency are going to win. We are not scared of high number of registered voters because most of them will vote for Team Zanu-PF," said Cde Mupfumi.
Mr Mutseyami was equally optimistic, arguing that he offers the best product and hinged his anti-incumbency campaign on shrewd strategies, his own ingenious planning and rapport with the voters.
"My first strength lies in the political party (MDC Alliance) that I represent, and the second in my ability and capability. I stay in the constituency and I am well vested with challenges affecting the area, and have ready solutions.
"I know the urban electorate's grievances, concerns and aspirations, and I will humbly offer a unique breed of servant leadership," said Mr Mutseyami.
He said Dangamvura-Chikanga has the second highest number of registered voters after Epworth.
"I will be able to represent them. It is a challenge, but the constitution treats MPs as the same, whether one's constituency has 0 000 or 61 000 voters," he said.
Ms Lynette Tendayi Mudehwe  of MDC-T said: "We have gone for several years without constant water supply in Dangamvura, Chikanga and Hobhouse while the latter has spent so many years without electricity. As an aspiring candidate and a resident who understands the struggles of the community I want to serve the community with diligence. I will make it a mandate to ensure that efficient service delivery to the residents is attained. We cannot have people from leafy suburbs coming and deal with our problems. It is within our constitutional rights to deal with our problems locally unlike a scenario where a representative attends to people's woes via a cellphone without physically attending to the problems or experiencing the people's challenges".
Musician-cum-politician Hosiah Chipanga believes he has an edge over his rivals, saying people will vote for an ideal candidate, not a political party.
"The high number of registered voters and aspiring candidates will work to my advantage. I am so happy that people are coming in numbers to vote, not just to vote, but to vote for Hosiah Chipanga because I am the ideal candidate to represent them.
"I have already won this race since I am God's messenger and I only need the electorate's approval and coronation. It  is encouraging that people are coming in numbers because they have a lot of grievances. Just like other candidates, I am a preacher and not a politician, I just want God's wish to be fulfilled. People are coming because they have unresolved grievances. Dangamvura-Chikanga used to be a beautiful place, but it is now in a sorry state and it is sad," he said.
Mr Kadzere had this to say: "The number of registered voters in our constituency is that high because the two suburbs have now expanded especially in Dangamvura where voters are expected to come from as far as Dora.
"It is good that people are coming in their number to exercise their mandate. I am not intimidated by the number of candidates who are participating in the election. Some of the candidates are unknown and have a habit of emerging towards elections to add numbers and cause confusion," he said.