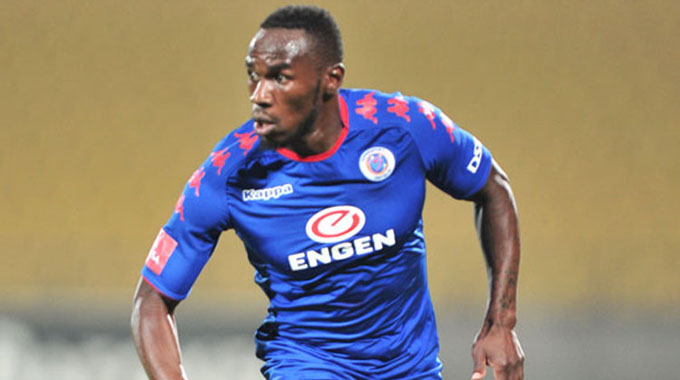 The ManicaPost
Ray Bande
Senior Reporter
MUTARE-born former Warriors defender, Onismor Bhasera is joining a rare breed of African footballers who have remained on the big stage way after turning 30 years of age.
Even though he has not been part of the Warriors squad of late, the former La Sakubva player is defying age by continuing his football career in the highly rated South Africa Premiership after he was offered a contract extension by SuperSport United.
Bhasera (34) will be with the Tshwane outfit until at least 2021 when he turn 35.
Speaking from his base in South Africa, Bhasera told Post Sport that he still feels strong and is looking forward to playing for several more years.
He attributed his longevity and consistency to living a healthy life that is centred on good nutrition and exercising.
"So far so good. I still feel strong and I think I can still play the game for a few more years, although I cannot tell until when exactly because it is a matter of how the body feels.
"I have always made sure I stay away from the dirty lifestyle. Things like alcohol, nightclubs and smoking are dangerous and I have always avoided them," said the former Warriors defender.
According to reports from South Africa's Soccer Laduma magazine, Bhasera is one of the players the club's Zimbabwean coach — Kaitano Tembo — has decided to retain.
This follows his impressive showing in the left-back position for the team in the last three years.
African players rarely remain competitive on the field of play after turning 30 such that history books of local football have very few in-field players who have competed at the highest level beyond the age of 35.
On the domestic front, Innocent Benza (46), the owner of Herentals Football Club, plays alongside his 17-year-old son Tinotenda.
At national team level, the short list of players that have featured in national team colours after passing the 35-year mark include goalkeeper Bruce Grobbelaar, who played for the country's flagship squad in a match against Tunisia at the age of 41 on November 17, 1998.
Edmore 'Zikeeper' Sibanda featured in a Warriors match against Egypt on June 21, 2019, at the age of 35.
With more game time at SuperSport, it will not be a surprise if Bhasera makes a sensational return to the Warriors squad in forthcoming assignments.
Last week, SuperSport United confirmed the release of Thabo Qalinge, Thakasani Mbanjwa and Thato Lesoma. This followed the departure of forward Thabo Mnyamane a fortnight ago.
Bhasera is one of the players who resumed training at the weekend after the club got the clearance from the South Africa Football Association to conduct training sessions.
The sessions are being conducted under strict Covid-19 health and safety guidelines.
The Zimbabwean defender has been SuperSport United's main left-back this season and has, so far, chalked up over 100 games for the Tshwane side since joining them in 2016.