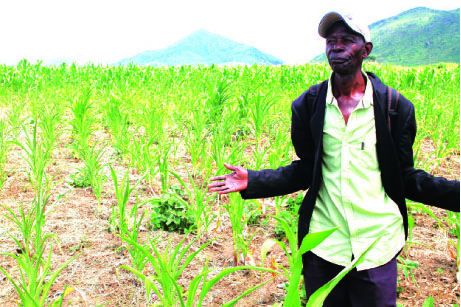 The ManicaPost
Samuel Kadungure
Senior Reporter
MANICALAND has endured a dry spell of about three weeks which has resulted in 30 percent of the maize crop being written off, with 50 percent of the crop that is at temporary wilting point requiring beneficial rains by mid-next week to be resuscitated, The Manica Post can reveal.
Resource-poor farmers in natural regions three, four and five are already counting their losses following the twin-evils of truant rains and scorching heat that have irreversibly damaged their crops.
Manicaland Provincial Agritex Officer, Mrs Philipa Rwambiwa said in Mutare and Buhera districts, lower parts of Chipinge, as well as the western parts of Chimanimani and Mutasa, the damage has already been done as most farmers will not salvage anything from their fields even if it rains now.
Mrs Rwambiwa said even traditional grains, revered for resilience against drought, are succumbing to the heat wave.
Manicaland last received meaningful rains on February 4, before some showers were received on Wednesday evening.
The dry spell has burnt crops, thereby leaving the province in danger of failing to produce enough to feed its growing population.
Manicaland planted 225 000 hectares of maize against a target of 260 000ha due to late rains and an erratic pattern.
After starting late, the season has had two vicious dry spells – the one experienced in December and the current one.
Limited, scarce and unreliable rainfall was received during a short period stretching from mid-December last year to end of January, with the remaining period mostly dry.
With the bulk of the province's crop suffering severe moisture stress, the quality of the remnant crop is now inferior.
"As we speak, about 30 percent of the maize crop has been written off. It has reached the permanent wilting point, and even it rains now that crop cannot be salvaged," said Mrs Rwambiwa.
"Even the traditional grains that are more tolerant to these conditions are also being affected. We require rainfall as soon as yesterday as the crops are not looking very good," she said.
"Temporary wilting happens when it gets hot and the crop shows signs of wilting, but when its sunset and early in the morning, it gets back to normal. At this point, 50 percent of the remaining crop can be resuscitated, but the yield will be reduced. Crops at this point can still be rejuvenated if it rains between now and early next week.
"Only 20 percent of the province's crops, including those under irrigation, are in good condition. The crops in Natural Region One are still good," she explained.
Regions One and Two cover some belts in Headlands, Odzi, Vumba, Nyazura, parts of Nyanga, Mutasa and upper Chipinge.
These areas have received normal rainfall can still get a reasonable harvest if it rains in the near future.
Mrs Rwambiwa said the time of planting will also have an impact on the yield per hectare.
"We planted late and the maize crop lose out on the heat units that are required by the crop to grow. This will negatively impact on the yield per hectare. Now we are experiencing a dry spell at the time when the bulk of the crop is nearing the tussling and grain filling stages, this will affect the yield.
"The situation has severely deteriorated because it has not rained since February 4. We had a false start mid-November after which we had effective rains after mid-December – that is when most people started planting until January 15.
"We received some rains towards the end of January into the first week of February, and since then it has not rained and this dry period has badly affected the crops," she said.
The Meteorological Services Department this week forecast little and isolated rainfall activity in Manicaland.
The local weather forecast shows that light showers and drizzle will be experienced in the northern districts of the province, while nothing is promising in the southern districts.
The persisting dry and hot conditions have triggered strong fears among farmers that their crops may never reach maturity.
"From the weather forecast, we are expecting light showers and drizzle in isolated areas, which may not be enough to resuscitate the crop. We can only talk of a better picture if we receive beneficial rains," said Mrs Rwambiwa.