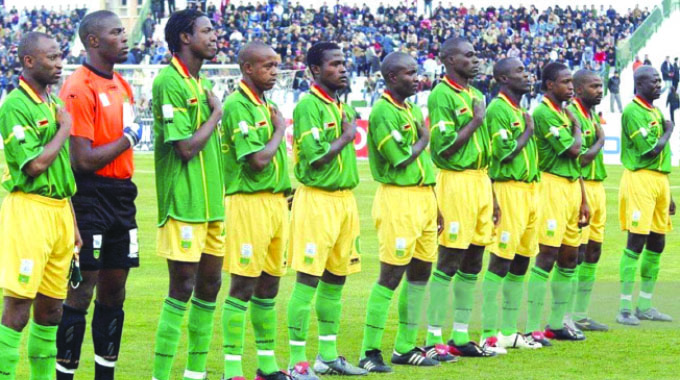 The ManicaPost
Moffat Mungazi Sports Correspondent
After being part of the team that played football as Zimbabwe qualified for its debut dance with the aristocracy of the continent's game at the Africa Cup of Nations (Afcon) finals in 2004, former Warriors midfielder Lazarus "Mali" Muhoni's place in the country's football folklore is immortal.
The Sakubva-born ex-Buffaloes who hung up his boots in 2012 still deeply cherishes his accomplishments.
Among his achievements, Muhoni was also the local league's top goal scorer and a Soccer Star of the Year finalist.
He recently revealed the amount of work he put in to achieve those results.
In an interview with Post Sport, Muhoni said the entire 2004 Afcon adventure hinged on unity of purpose, determination and the squad's drive to succeed.
"A shared vision was the lifeblood of that group, while hard work was the glue that held it together. Having the senior men's soccer team doing well was our collective responsibility. Those virtues did the trick and carried us through.
"We grew into a closely knit family and would fight for each other all the way. There was a workman-like attitude and a spirit of camaraderie among the boys such that we pulled in the same direction.
"I guess we epitomised the quintessence of our battle name — theWarriors. As a playing unit, we were very compact and gave very little away to opponents. Such a sturdy outfit would fight to get something out of matches and grind out results to help our cause.
"This harmony took us to the places we reached. We were keen to make history and are delighted that we actually did," reflected Muhoni, nicknamed Mali after his solitary strike sank the West Africans at National Sports Stadium during the qualifiers that successfully set Zimbabwe on the path to qualifying for the finals.
A net-busting midfielder in his heyday, Muhoni started Zimbabwe's first ever match at the Afcon finals in 2004 and delivered the assist for Peter Ndlovu's goal as the Warriors raced into the lead.
As testament that there were no untouchable players in the group, Muhoni said they would get into crunch tackles without any bad blood boiling over as they put in the hard yards during training sessions.
But how did everything come together for this platoon whose troops were conscripted from different bases and tugged along different club cultures?
Was it not difficult to strike telepathy among a legion of stars, some of whom were drawn from the local clubs while others had touched down from Europe?
Midfielders Ronald "Gidiza" Sibanda and Lloyd Chitembwe, defender Dazzy Kapenya as well as goalkeeper Energy "Gokwe" Murambadoro and Muhoni were some of the local talent that would rub shoulders with fancied foreign-based teammates like George Mbwando (Germany), Harlington Shereni (France), Dickson Choto (Poland), Joel Lupahla (Cyprus), Kaitano Tembo, Wilfred Mugeyi and Tinashe Nengomasha (all South Africa).
Explained the soft-spoken Mutare-born star: "Nobody felt out of place on those occasions because we had mutual respect for each other. We believed in each other a lot.
"Each person acknowledged that everyone was in camp on merit. An illustrative example is the fact that I had been called up from modest Black Rhinos while Mwando (George) and Peter (Ndlovu) were turning out in the second tier divisions of German and England respectively, but we still got along very well.
"Each player had a specific role to play. Being there for one another while playing up the group's strengths made the team tick. This was made easier by the fact that we enjoyed the warmth of a fatherly figure in coach "Sunday "Mhofu" Chidzambwa, while captain Peter "Nsukuzonke" Ndlovu was an inspirational leader both on and off the pitch" said Mugoni.
That spirit of oneness and selflessness, Muhoni recalls with nostalgia, saw the players commiserating with stylish playmaker Johannes "Signature" Ngodzo when he suffered a knee injury that ruled him out of the tournament.
To soothe their teammate's broken spirit, the Warriors docked part of their pickings and doled them out to Ngodzo, with skipper Ndlovu playing a cheerleading role.