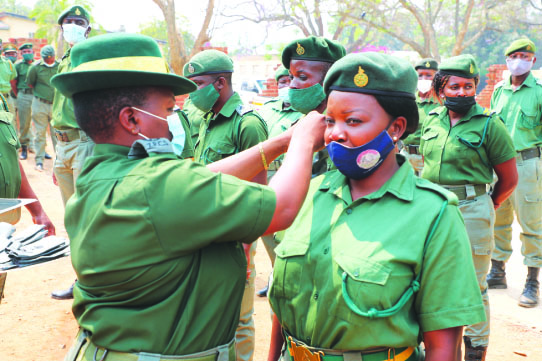 The ManicaPost
Tendai Gukutikwa
Post Correspondent
A TOTAL of 167 non-commissioned Zimbabwe Prisons and Correctional Services officers were promoted last week on Friday.
The colourful ceremony which was presided over by Officer Commanding ZPCS in Manicaland, Commissioner Spetosomusa Moyo-Chinobva saw 54 officers being promoted to Correctional Officer Grade Two, 56 to Correctional Officer Grade Three and 57 to Assistant Principal Correctional officers ranks respectively.
148 officers were promoted after upgrading their qualifications, while 19 were promoted because of their devotion and excellence in discharging their duties.
In a speech read on his behalf by Commissioner Moyo-Chinobva, ZPCS Commissioner General Moses Chihobvu, said academic advancement is paramount for social development as well as the country's development.
He urged ZPCS officers to continue upgrading themselves academically.
"ZPCS recognises our efforts in advancing ourselves academically. You will be highly rewarded if you keep on upgrading your qualifications as well as being efficient in discharging your duties. Continue working hard and go an extra mile in both your day-to-day duties and personal relations.
"Let us continue working hard and improving ourselves academically and professionally. We determine whether we grow or diminish and therefore, I encourage all officers who are yet to acquire professional qualifications to do so as this does not only help them in their elevation, but also on their social standing.
"Continue self-upgrading yourselves and it will not go unnoticed," he said.
He further urged officers to contribute in the fight against Covid-19 by being vaccinated.
"Stay mindful of the Covid-19, it is real and its emergence continues to cause great suffering the world-over. Take your part in the fight and get vaccinated if we still have some among us who are still to be vaccinated.
"Government's position is now very clear when it comes to vaccination of officers. You are required to be vaccinated, there are no two ways about that. If you still need to enjoy the benefits of being a member of the uniformed forces, then you need to be vaccinated as soon as possible," he said.
He further advised officers to maintain high levels of moral uprightness and avoid engaging in outward activities that provide a fertile ground for diseases that might be costly to their health.