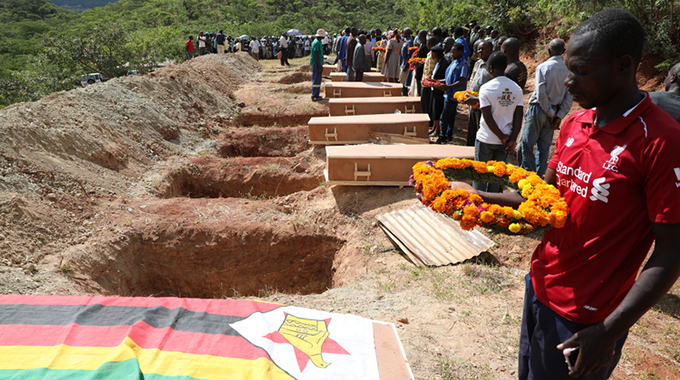 The ManicaPost
Post Reporter
THE remains of 16 freedom fighters brutally killed and dumped into an unmarked mass grave in Odzi during the war were on Wednesday accorded decent reburial at Matumba Six Shrine in Mutasa district.
Five of the victims were positively identified and their relatives attended the reburial.
The remains were discovered by workers at a gold mine in Odzi early this year.
The Fallen Heroes Trust of Zimbabwe (FHTZ) and the Zimbabwe National War Veterans Association (ZNWVA) facilitated the reburial.
Speaking during the reburial, the FHTZ chairman Dr Arthur Makanda urged Government to provide funding for the reburial of fallen heroes in the national budget.
"It is important to note that the peace and reconciliation that we are enjoying will not fully blossom if we ignore the fallen heroes who are still lying in unmarked or mass graves across the country and beyond our borders.
"It is sad that the human rights lawyers of today concentrate on every other aspect of human rights, but ignore the right to decent burial for our fallen heroes. Indeed, the Government must consider including the initiative to accord decent burial to our fallen heroes in the national budget," he said.
Manicaland war veteran leader Cde Charles Hokoyo applauded efforts by the FHTZ to accord decent burial to victims of the brutal Ian Smith regime.
The five, identified with the help of spirit mediums, had their relatives present at the reburial ceremony and include Cdes Charles Machodo, of Mafararikwa village in Marange, Jethro Zinhawa, of Mwoyowesumba in Mutasa, Moses Bishawo, of Parari in Marange, Blessing Tibulo, of Rukweza in Makoni and Isaac Mafundikwa, of Gutu in Masvingo.
Zanu PF provincial secretary for commissariat Cde Gift Kagweda and provincial secretary for finance Cde Misheck Mugadza attended the occasion.
Local timber processing concern Wattle Company provided material to manufacture the 16 coffins.