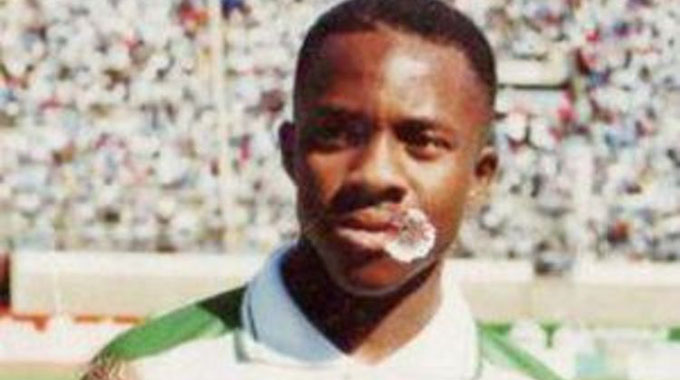 The ManicaPost
Ray Bande Senior Reporter
EVEN though his CAPS United family did nothing in honour of their departed iconic player, on Tuesday, when exactly 15 years have passed after Dangamvura-born midfield genius Blessing Makunike breathed his last, folks in Mutare remembered one of their own with nostalgic social media messages that evoked sweet memories of his mazy turns and deft footwork in the middle of the park.
In a week that started with CAPS United suffering a 0-2 defeat at the hands of old nemesis Dynamos in a pre-season friendly tie, none in the green half of the capital spared a thought for Makunike – a talented midfielder who charmed the hearts and minds of many as he earned his place in the Mekepekepe Hall of Fame.
On a planet where a sad event like the Munich air disaster in which the British European Airways flight carrying Manchester United players and officials crashed is annually remembered at Old Trafford, questions are bound to be asked how and why we have a culture of easily forgetting our heroes and heroines.
The stomach-turning trend of forgotten sports personalities, football legends in particular, does not begin neither does it end with the former Mutare Boys High student.
The list is long!
Such is the sickening tradition of little respect and an unappreciative disposition endemic in our domestic football circles that memories of our yesteryear stars, like morning dew, easily fade each time they disappear from sports fields across the country.
Tuesday marked exactly 15 years after that road accident that claimed the lives of Caps United trio of Makunike, Gary Mashoko and Shingirai Alron but sadly went unnoticed.
CAPS United were traveling from Bulawayo after a league match against Njube Sundowns when the three players decided to return to Harare in a supporter's car.
Makunike, his teammates and the two supporters who were in that vehicle met their fate as they were burnt to death while trapped in the wreckage following the accident.
At least for Makunike – the man the nation nicknamed Yogo-Yogo after the late South African musician Penny Penny's hit song back then – his kith and kin in Mutare used social media platforms, mainly Whatsapp, as an avenue to pour out their emotions as they took time to cherish rare football talent Makunike exuded.
None other than veteran sportscaster Charles 'CNN' Mabika christened him Yogo Yogo given Makunike's trademark celebration dance that resembled how musician Penny Penny teasingly tapped his feet while belting out his Di-gong tracks back then.
In his post in Mutare Sports Updates, Adam Mutena of Sakubva said: "It is subjective to say he (Makunike) is the finest talent to emerge from Mutare though it is good to bring back great memories of him. Cliff Matondo, Chibhodhoro, Johnson Mbaradza may their souls rest in peace. Anthony Masunda is among some of the finest to emerge from Mutare."
Aspiring young Mutare sportscaster Richard 'Quivive' Zimunya, who has done so well in local football gatherings to prove his determination and passion, wrote: "Tears may dry but our memories for him (Makunike) will never fade. Makunike did not only fit in the green half of the capital's football family but in the broader picture of Zimbabwe football."
Misheck Chapungu, who has served as a teacher at Mutare Boys High for the past 26 years including the period that Makunike was still a student at the school, spoke glowingly about the level of discipline that the departed player displayed.
"I will always remember Blessing Makunike as a very disciplined player who was dedicated to the game of football.
"He never argued especially when it comes to referees decisions and always adhered to instructions both on and off the field of play," he said.
Such is the passion and strong affection with which football followers in Mutare remember Makunike and in this 15th anniversary of his demise, the road that was named after him by the local authority back then has finally been tarred.