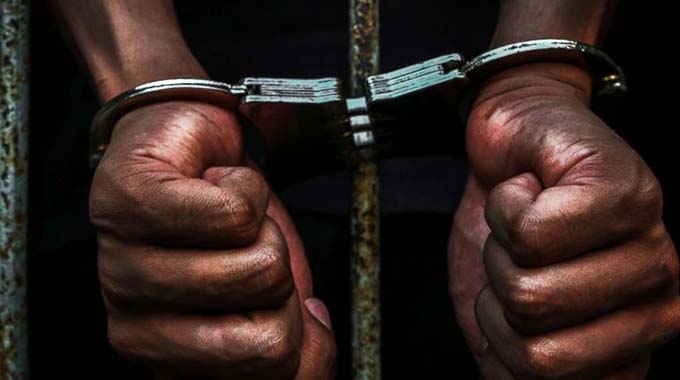 The ManicaPost
Tanyaradzwa Mujati
Post Reporter
TWO Mutare armed robbers and carjackers were each sentenced to 14 years in prison for stealing two vehicles and property worth US$7 850.
The two Honda Fit vehicles worth US$4 000 and US$3 000 were recovered, while property worth US$850 was not recovered.
Brighton Kasamba and Kelvin Maunde appeared before regional Mutare magistrate, Ms Phathekhile Msipa.
They were charged with two counts of robbery as defined in Section 126 (1)(a) of the Criminal Law (Codification and Reform) Act, Chapter 9:23.
Ms Msipa found Kasamba and Maunde guilty and sentenced each of them to seven years for each count.
Six months were set aside on condition that the two accused restitutes the complainant in count two, while the other year was set aside on condition of good behaviour.
The two will therefore serve effective jail terms of 12 and half years.
Mr Lust Goredema prosecuted.
He said on May 15, 2021, Kasamba approached Mr Tendai Chitanda at Chikanga Rank in Mutare and pretended that he wanted to hire a taxi to Fairbridge Park.
"Kasamba sat on the front passenger's seat and he requested for Mr Chitanda to pass through Mudzviti Bus Terminus to pick Maunde whom he purported to be his brother who had just arrived from Harare.
"Kasamba directed Mr Chitanda to Shelly Road in Fairbridge Park and upon arrival, he ordered the complainant to stop the vehicle near the gate of a house.
"Maunde then produced a toy pistol and pointed it on Mr Chitanda's neck. Kasamba produced a silver knife from a satchel and pointed it again at the complainant.
"They told him that they wanted his vehicle and that if he resisted they would kill him. They grabbed the complainant by the neck and hit him with the butt of the toy pistol on his head.
"They tied his hands with shoelaces and pulled him to the back seat," said Mr Goredema.
Kasamba jumped on the driver's seat and drove the Honda Fit vehicle towards the Mutare-Harare Highway. He stopped behind Wise Owl Motel and forced the complainant out of the vehicle then drove off.
The two sped off to Guruve in Mashonaland Central where they sold the vehile to Kasamba's cousin, Gias Malta of Mukusa Village under Chief Chipuriro.
They shared the proceeds.
However, investigations led to the recovery of the vehicle, worth US$3 000, on January 5, 2022 at the Chinhoyi Tollgate.
Malta told the police that he had bought the vehicle from his cousin and that led to the duo's arrest.
In the second count, Enock Mutswiri, who is still at large, Kasamba and Maunde hatched a plan to steal Mr Michael Chiwara's vehicle.
Kasamba pretended to be looking for a taxi at Chikanga Rank.
He told Mr Chiwara that he wanted to go to Yeovil and he was charged US$3 for the ride.
Mr Goredema said: "Kasamba directed Mr Chiwara to Yeovil and when they reached Mhaka Business Centre, he ordered the complainant to turn into Pike Place Road. He ordered Mr Chiwara to park the vehicle at the gate of a house along Dorset Close where he had left Maunde and Mutswiri.
"Mr Chiwara complied and waited to be given his money by Kasamba. However, Kasamba disembarked from the vehicle and went to the driver's door and opened it. He grabbed the complainant by the neck and produced a knife, threatening to kill him if he resisted his orders.
"Maunde and Mutswiri appeared from nowhere with logs. They jumped into the vehicle and forced Mr Chiwara out. Kasamba's girlfriend, who was also in the car, ran away," said Mr Goredema.
Mr Chiwara ran away, screaming for help.
The trio drove off in Mr Chiwara's vehicle which had a smartphone, a small bag containing US$550 and a brown wallet with a driver's licence and a national identity card.
"The total value that was stolen was US$4 850 and the vehicle, worth US$4 000, was recovered," said Mr Goredema.